Home
About Us
FAQ
Privacy Policy
Contact Us
Books
DVDs
VHS
Charts
Audio Books
General Information
Secure Order Form
Mail & Fax Orders
Shipping Rates

Mastercard
Visa, Discover
* * *
Phone Toll Free:
1-877-577-8743
within U.S.A.
* * *
International
1-336-246-2663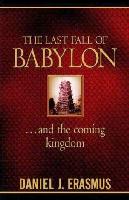 THE LAST FALL OF BABYLON ...AND THE COMING KINGDOM

Daniel J. Erasmus, 2003



Yes, this world is Babylon the great! Since that infamous day in the Garden of Eden, man has been a fallen being. Read about amazing prophecies regarding: Jesus Christ's first coming; Israel's unique role; Iraq as the literal Babylon; Coming wars in the Middle East; The rapture; The millennium; The glory of heaven.

Also read amazing facts about:
Russia's military conscripting horses since the year 2000.
Birds of prey gathering in and over Israel in the millions.
Nobel peace laureate suggests a one world currency at the UN.
African, Asian and Middle East blocks are forming similar to the EU.
The formation of the endtime Babylonian new world religion.
---
TABLE OF CONTENTS
Introduction
Shining Light of the Prophetic Word!
Startling Signs
The Unique Role of Israel
The Middle East - Flashpoint of the World
The Last Fall of Babylon
All Roads Lead to Rome
A Week Has Seven Days
The Time of jacob's Trouble
When is Christ Coming?
The Seventh Day - The Coming Kingdom
The Glory of Heaven
Endnotes

---
AUTHOR PROFILE
Daniel Erasmus is the editor of Eindtyd [Endtime] Bulletin, a periodical on the fulfillment of the Bible in our day. Since 1994 he has been a full-time Bible researcher, carefully documenting world events that prove the Bible to be God's inspired Word. He has written more than a hundred articles, booklets, and tracts on Bible prophecy and related subjects. Some are available in other languages. He holds a degree with Christian philosophy as one of the majors and lives in South Africa.

---
BOOK SPECIFICATIONS
341 pages, paper.
ISBN 1591604095