Home
About Us
FAQ
Privacy Policy
Contact Us
Books
DVDs
VHS
Charts
Audio Books
General Information
Secure Order Form
Mail & Fax Orders
Shipping Rates

Mastercard
Visa, Discover
* * *
Phone Toll Free:
1-877-577-8743
within U.S.A.
* * *
International
1-336-246-2663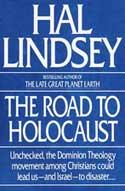 THE ROAD TO HOLOCAUST
Hal Lindsey, 1989



Here is bestselling author Hal Lindsey's most shocking revelation ever: the disquieting facts about a new spiritual movement that would take over our churches and government and lead us to disaster. Just as current events are converging into the precise pattern the biblical prophets predicted would herald the return of Jesus Christ, a new movement has arisen with the Evangelical Church that denies it all--allegorizing away the clear meaning of prophecy. This movement, commonly known as Dominion Theology, reintroduces an old error that brought catastrophe to the Church and the Dark Ages to the world--the same error that founded a legacy of contempt for the Jews and ultimately led to the Holocaust of Nazi Germany.

---
TABLE OF CONTENTS
The Roots of Holocaust
Is History Repeating Itself?
Controlling the Imagination
When God Swears, Men Beware
A King, A Kingdom, and Forgiveness
Israel in the Past: Elected
Israel in the Present: Rejected
Israel in the Future: Accepted
Hope Hidden in an Olive Tree
Now Learn the Parable From the Fig Tree
The Great Dominionist Dating Game
Quo Vadis, Church?
Endnotes
About the Author

---
AUTHOR PROFILE
Hal Lindsey is the author of 20 best-selling books, with a total of over 40 million in print. The New York Times named him the best-selling author in the world for the decade of the 1970s. His first book, The Late Great Planet Earth, sold more copies than any Christian book in history other than the Bible. His most recent book, The Everlasting Hatred: The Roots of Jihad, has become a best-seller. He is a news commentator on the weekly international broadcast, International Intelligence Briefing.

---
BOOK SPECIFICATIONS
295 pages, paper
ISBN: 055334899X