Home
About Us
FAQ
Privacy Policy
Contact Us
Books
DVDs
VHS
Charts
Audio Books
General Information
Secure Order Form
Mail & Fax Orders
Shipping Rates

Mastercard
Visa, Discover
* * *
Phone Toll Free:
1-877-577-8743
within U.S.A.
* * *
International
1-336-246-2663
International Customers - click here for important information on VHS & DVD compatability before ordering.
THE OSLO ACCORDS
A Decade of Deception and Failure - VHS Video

Hal Lindsey, 2004



Never in history has one party to a major Peace treaty so flagrantly violated every premise of the agreement, and yet still been supported by the world community as if it had kept all agreements. And the other party, though complying with the agreements, held guilty for the failure of the treaty. This video will document that the Palestinian Authority has failed to keep any of the agreements it promised to abide by. It will also show that the world community, led by the United Nations and the European Union, continues to hold Israel responsible for the failure of the treaty and forced concession after concession despite the PA violations. But more importantly, this Video will show "Why" and "Where all this is leading." It is an ancient conflict that is leading the world to Armageddon. 100 Minutes.
---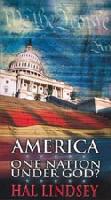 AMERICA: ONE NATION UNDER GOD? - VHS Video

Hal Lindsey, 2002



America was founded by men who were totally influenced by the Bible and Christian ethics. All of the precepts of the Declaration of Independence and the Constitution are based on the assumption that God is supreme over the affairs of man and His laws are the absolute basis of justice. America flourished because of this for over 180 years. But when the Supreme Court began to re-interpret the original laws so that God was forced out of our schools and out of our public consciousness, the United States began a steady decline.

This video will show that America will not survive if there is not a return to the original thinking of its founders. Even our economic system as built on the assumption that the average citizen would be honest and ethical in his dealings. We can see today how our economics are failing, because without God in our public consciousness, there is no longer a comon honesty or ethics. This video is a must to understand why we must reverse this fatal trend in America before it is too late. 53 minutes. VHS Video.
---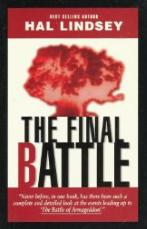 THE FINAL BATTLE - VHS Video
Hal Lindsey
War--the most brutal, barbaric and destructive conflict ever waged on this planet. He shows how the world is headed inevitably to a holocaust that can only be halted by divine intervention. VHS Video


---
TOP | HOME
Copyright 1998-2012 by Cliffside Publishing House