Home
About Us
FAQ
Privacy Policy
Contact Us
Books
DVDs
VHS
Charts
Audio Books
General Information
Secure Order Form
Mail & Fax Orders
Shipping Rates

Mastercard
Visa, Discover
* * *
Phone Toll Free:
1-877-577-8743
within U.S.A.
* * *
International
1-336-246-2663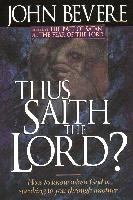 THUS SAITH THE LORD?

John Bevere, 1999



How do you know when God is speaking? Today, there is an insatiable hunger for the prophetic word of the Lord. Christians are eager to receive "words from the Lord" and to share them. Along with the genuine desire for the real comes a vulnerability to excessive or counterfeit prophetic ministry. Too often, modern "prophets" stream through our churches, fellowships, and homes giving words almost like fortune-tellers. But is God really speaking?

In this insightful and eye-opening book, respected author and teacher John Bevere shares with you:
How to accurately discern prophecy.
How false prophecy can be accurate with your past and present, but miss your future.
How counterfeit prophecy leaves you fruitless.
How to discern a true prophet from a false prophet.
How to respond when a word is not from God.
How to be led by the Spirit and more.
---
TABLE OF CONTENTS
Foreword
The Need for Prophetic Ministry
Widespread Deception
The True Prophetic Ministry I
The True Prophetic Ministry II
Prophetic Pollution
Personal Prophecy
Speaking to the Idols of the Heart
Defiled by Prophetic Words
Taught My People Rebellion
The Operation of Jezebel
Self or God Appointed
The Sting of Jezebel
Knowing Prophets by Their Fruit
The Love of the Truth
Testing and Handling Personal Prophecy
Epilogue
Notes

---
AUTHOR PROFILE
John Bevere is recognized worldwide as a best-selling author and anointed minister. His books and tapes, which have sold more than a half million copies, include the bestsellers The Bait of Satan and The Fear of the Lord. His mandate is to proclaim the truth that turns hearts to God. John and his wife, Lisa, reside in Orlando, Florida, with their four sons.
---
BOOK SPECIFICATIONS
183 pages, paper
ISBN 0884195759