Home
About Us
FAQ
Privacy Policy
Contact Us
Books
DVDs
VHS
Charts
Audio Books
General Information
Secure Order Form
Mail & Fax Orders
Shipping Rates

Mastercard
Visa, Discover
* * *
Phone Toll Free:
1-877-577-8743
within U.S.A.
* * *
International
1-336-246-2663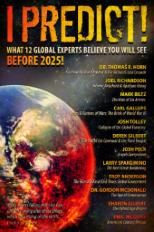 I PREDICT!: What 12 Global Experts Believe You Will See Before 2025!

Thomas Horn, 2016


$17.95
Retail $19.95
Ships within
24 hours!


Over the last few decades, celebrated theorists and philosophers have increasingly contemplated the future of humanity through a predictive lens the meaning and purpose of our existence in light of the Bible s end-times narrative. Is it possible that ancient prophets actually foresaw how the world would come to an end and how final salvation including judgment of the nations would precisely transpire? In this wide-ranging and authoritative work, recognized experts from around the globe examine extraordinary developments currently playing out in geopolitics, science and technology, discovery, and even the supernatural, under the microscope of Scripture. The magnitude of individual choices and opportunities that lie just ahead, these experts say, will soon impact all of our lives in unprecedented ways. 327 pages, paperback.
More Information, Table of Contents
More Books by Thomas Horn
---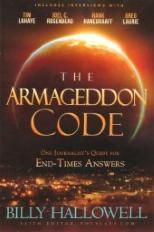 THE ARMAGEDDON CODE
One Journalist's Quest For End-Times Answers

Billy Hallowell, 2016


$16.95
Ships within
24 hours!


Interest in the end times has been at an all-time high in recent years, but how much of what we read in today's headlines and best-selling books is true? What does the Bible really predict will happen and when? Why are there so many different viewpoints among Christians, and are any of them right? With questions like these, it's no wonder that the subject of the end times creates confusion, doubt, and anxiety for many people today.
The views of a broad range of today's foremost experts in Bible prophecy and other leading voices in Christian ministry have been gathered in one book to allow you to educate yourself on what the Bible says, compare what the experts believe, and draw your own conclusions. In one-on-one interviews with Billy Hallowell, these leaders explain what they believe the Bible teaches us about the Rapture--including views on pre-Tribulation, post-Tribulation, and everything in between--Antichrist, Tribulation, Millennium, mark of the beast, and more. 207 pages, paperback.
More Information, Table of Contents, Author Profile
---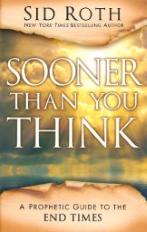 SOONER THAN YOU THINK
A Prophetic Guide to the End Times

Sid Roth, 2015


$14.95
Ships within
24 hours!


Sid Roth, host of Itís Supernatural!, has gathered some of the leading experts and prophetic voices to take you on a powerful journey of upcoming events. Each author shares a different part of the prophetic puzzle. By the time you finish reading this book, the pieces will come together and create a clear picture of Godís unfolding agenda for the end-times.
Discover how this pivotal moment in history is your great opportunity to be on guard against the enemyís deception, experience Godís power like never before, and participate in the greatest revival in history! 271 pages, paperback.
More Information, Table of Contents, Author Profile
---
LAST-DAYS DIARY
A Journal Analyzing Today's Most Crucial End-Times Issues and Events

Terry James, 2012



Many fears are wrapped up in global issues and events and whether they signal "doomsday," or the end of the world as we know it. In his weekly commentaries for www.raptureready.com, Terry James carefully analyzes the scenarios that Jesus and the prophets of the Bible foretold will precede Christís Second Coming. Last-Days Diary presents these commentaries in a journal format to give a running narrative of what in the world has been going on for the past two years. This insight helps readers know what to make of headlines and happenings in light of biblical prophecy, and it unveils just how near we are to the Tribulation hour.
Israel is back in the Holy Land and in the spotlight of world attention.
Jerusalem is the cause of great controversy.
The worldís monetary systems are in chaos.
Computer and surveillance technologies threaten to end liberty around the globe.
The progression of these prophesied issues and the march of these unfolding events ignites a burning necessity to look more deeply into these matters so critical to our immediate future. 422 pages, paperback.
More Information, Table of Contents, Author Profile
---
FLASHPOINT 2012

Dr. G. Thomas Sharp, General Editor, 2010


$19.95
Ships within
24 hours!


Even people who disagree about worldview acknowledge that something is amiss in our world today. A convergence of circumstances is seemingly hurtling us toward civilizations' conclusion. Among the riveting topics our Flashpoint lineup of experts reveal are:
What role does the paranormal play in our culture?
What is the Emerging community emerging into?
How should we respond to the existence of Israel?
When will time cease to exist?
Is Bible prophecy a legitimate reality?
Could an ancient calendar predict the end of the world?
Contributors include: Dr. G. Thomas Sharp, Todd Strandberg, David Hitt, Dr. Haskell Rycroft, Jeff Patty, Terry James, Jan Markell, Dr. Jeffrey Seif, Jim Fletcher, Noah Hutchings and Dr. John D. Morris. 241 pages, paperback.
More Information, Table of Contents, Editor Profile
---
THE DEPARTURE: God's Next Catastrophic Intervention Into Earth's History

Terry James, General Editor, 2010



As the world races toward its momentous end-times encounter with God, cascading fulfillment of Bible Prophecy clearly points to the catching away of the saints -- an event popularly known as the Rapture of the Church. Specific circumstances, which were prophesied to occur in the days just before this Departure, would appear as signs of the nearing moment, including:
The emergence of a new global order and global government.
Technological developments making possible the Mark of the Beast.
Apocalyptic turmoil in the Middle East, pointing toward nuclear Armageddon.
Global fascination with occult, demonic, and otherworldly manifestations.
Departure from the faith giving space to false doctrines.
Worldwide violence, upheaval, like it was in the days of Noah.
In The Departure: God's Next Catastrophic Intervention into Earth's History, leading national and international researchers, scholars, authors, and speakers share their specialized knowledge about what you can expect in the coming days, and, more importantly, what you can do to be prepared for the Rapture of the Church. Contributing authors: Terry James, Chuck Missler, Thomas Horn, Larry Spargimino, Phillip Goodman, Jack Kinsella, Michael Hile, Joseph Chambers, Don McGee, Alan Franklin, Pat Franklin, Todd Baker, Daymond Duck, Wilfred Hahn, Don Perkins, Jim Fletcher, Todd Strandberg, Alan Franklin. 411 pages, paperback.
More Information, Table of Contents, Editor Profile
---
WELCOME TO THE ENDTIMES

Julio Matos, 2009



The inevitable is about to take place all over the world very soon, where millions of people will suddenly disappear from the face of the earth without a trace. Who will orchestrate this earth shattering event? How will we respond to it? What will happen to this planet and its inhabitants? When will this event take place? What signs are we seeing now leading to this great event? The answers to these and other questions can be found in this book. This book will be your guide to get you ready for what's coming. 210 pages, paperback. View: Premillennial, Pre-Tribulation.

More Information, Table of Contents, Author Profile
---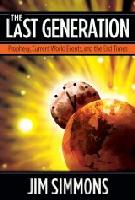 THE LAST GENERATION: Second Edition
Prophecy, Current World Events, and the End Times

Jim Simmons, 2009



The Last Generation lays out evidence that the generation born in 1948 (when Israel became a nation) or later is the generation that will witness the Second Coming of Christ. It draws on credible evidence from current events, the fulfillment of prophecy at a accelerated pace, the views of many scientists, and information gained by intelligence sources. This book answers such questions as: What will happen to Israel? Where does Russia fit into prophecy? What about Iran and Syria? What will be the ultmate solution to the world economic crises? Where does the New Age movement and UFO's fit into biblical prophecy? 303 pages, paper, appendices. View: Premillennial, Pre-Tribulation.

More Information, Table of Contents, Author Profile
---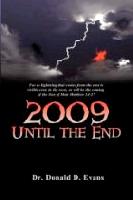 2009 UNTIL THE END

Dr. Donald D. Evans, 2009



People are wondering what in the world is going on! The stock market fell and many lost their savings. The government is buying up everything they can. Fascism government control is here! We have lost our freedom and more is coming. Jobs have gone, Global warming is here. We have the greatest drought ever seen. Our leaders want total control, but to us, that change is not good. We see flooding, earthquakes, high cost of living, famine, volcanoes, and our enemies rising up ready to strike. This Book tells you why and just what Hour it is. 181 pages, paper.

More Information, Table of Contents, Author Profile
---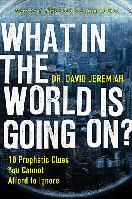 WHAT IN THE WORLD IS GOING ON?
10 Prophetic Clues You Cannot Afford to Ignore

Dr. David Jeremiah, 2008



The Bible has much to say about the end times. Yet it is hard to piece together all that information in a way that gives a comprehensive picture of what that time period will look like. That's why so many theories abound. And that's why Dr. David Jeremiah has written What In the World Is Going On?, a unique book that cuts through the hundreds of books and numerous theories to identify the essential 10 most important bible prophecies. There is no other prophecy book like this. You'll find it the ultimate study tool for understanding the future. And this book will also motivate readers to live a more holy life and make greater efforts in evangelism. If bible prophecy as always been a mystery to you, Dr. Jeremiah's book will help you solve the mystery. At last, bible prophecy can make sense, and make a difference. Bible prophecy does not have to be confusing. What In the World Is Going On? is shocking and eye-opening but essential reading in a world of confusing theories. 259 pages, paperback.

More Information, Table of Contents, Author Profile
---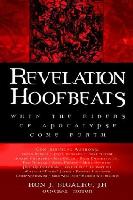 REVELATION HOOFBEATS
When the Riders of the Apocalypse Come Forth

Ron J. Bigalke, Jr, general editor, 2003



Revelation Hoofbeats is a compilation of internationally known Bible prophecy experts including Harold Willmington, Dave Breese, Dave Hunt, and Arno Froese. These authors have written on crucial topics of the day so you can understand the fulfillment of biblical prophecies and explore prophecies for the future. Revelation Hoofbeats shares God's plan of the ages and helps you understand the times ahead. 363 pages, paper.

More Information, Table of Contents, Author Profile.
---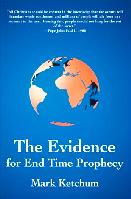 THE EVIDENCE FOR END TIME PROPHECY

Mark Ketchum, 2002



According to a recent poll commissioned by the Tyndale House Publisher s, over forty percent of Americans believe God will eventually intervene in human affairs and bring about an end to life here on earth. Of those believers, over 80% say that it is likely Jesus Christ would return and half of them believe it will occur in their lifetime. With wars and environmental disasters looming around the globe, we may very well be living to witness the end times. 141 pages, paper

More Information, Table of Contents, Author Profile


---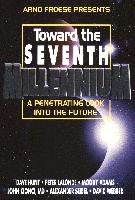 TOWARD THE SEVENTH MILLENNIUM
A Penetrating Look into the Future

Arno Froese, general editor, 1998



Six leading authorities on Bible prophecy, and AIDS expert Dr. John Cionci bring us up-to-date in this awesome look toward the future for the church and the world. This explosive volume brings you 13 concise and penetrating essays delivered to a packed-out audience at the Atlantic Coast Prophecy Conference. 281 pages, paper, index

More Information, Table of Contents, Author Profile


---
EARTH'S FINAL DAYS
Essays in Apocalypse III
William James, editor, 1995


Third in the Apocalypse Series, this book features more essays by prophecy experts such as David Webber, Lester Sumrall, J.R. Church, Dave Breese, Don McAlvany, and more.
367 pages, paper


---
TOP | HOME
Copyright 1998-2017 by Cliffside Publishing House