Home
About Us
FAQ
Privacy Policy
Contact Us
Books
DVDs
VHS
Charts
Audio Books
General Information
Secure Order Form
Mail & Fax Orders
Shipping Rates

Mastercard
Visa, Discover
* * *
Phone Toll Free:
1-877-577-8743
within U.S.A.
* * *
International
1-336-246-2663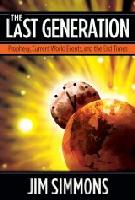 THE LAST GENERATION: Second Edition
Prophecy, Current World Events, and the End Times

Jim Simmons, 2009



The Last Generation lays out evidence that the generation born in 1948 (when Israel became a nation) or later is the generation that will witness the Second Coming of Christ. It draws on credible evidence from current events, the fulfillment of prophecy at a accelerated pace, the views of many scientists, and information gained by intelligence sources. This book answers such questions as: What will happen to Israel? Where does Russia fit into prophecy? What about Iran and Syria? What will be the ultmate solution to the world economic crises? Where does the New Age movement and UFO's fit into biblical prophecy? View: Premillennial, Pre-Tribulation.

---
TABLE OF CONTENTS
Acknowledgments
Introduction
Generation X: The Last Generation?
World Views from a Human and Divine Perspective
Will the Real Prophet Stand Up?
The Emerging Final Empire
The Final Empire: A One World Government
The Coming One World Religion
Vanished! Milestones in the Race to Armageddon
Apocalypse / Last Days
CHARTS
Times of the Gentiles
Number of Significant Worldwide Earthquakes Greater than 6.0 on the Richter Scale
Violent Crimes in the U.S. from 1960-2005
Three-Century Slide toward Relativism and Beyond
Changing World View
Comparision Table of Authors and Manuscripts
Daniel's 70 Weeks
Growth of Knowledge
Origin of the Mystery Religions of Babylon
Primary Distinction Between the Rapture and the 2nd Coming
Interrelationships of Seal, Trumpet, and Bowl Judgments
FIGURES
European Union Poster: Rebuilding the Tower of Babel
European National Symbol: Europa Riding the Bull
APPENDICES
Appendix A: New Age Apostasy: Departure from the Faith
Appendix B: The UFO Grand Deception
Appendix C: List of Tribulation Judgments
Appendix D: For the Reader's Consideration
Endnotes

---
AUTHOR PROFILE
Jim Simmons has been a psychotherapist for more than 30 years. He is licensed as a professional counselor and as a marriage and family therapist. He has a Master of Arts degree from Southwestern Baptist Theological Seminary and has studied prophecy for a number of years. Jim has done extensive research on prophecy and what the Bible says about the future. His first book, The Last Hour, published in 2001, explored specific reasons to believe that we are in the last days and showed that the stage is set for a global deception. In The Last Generation, he presents a thoughtful and intriguing approach to biblical prophecy as it relates to current events, worldviews, and the New Age Movement. Jim lives with his wife, Joanne, in North Texas.

---
BOOK SPECIFICATIONS
303 pages, paper, appendices.
ISBN 9780984168033