Home
About Us
FAQ
Privacy Policy
Contact Us
Books
DVDs
VHS
Charts
Audio Books
General Information
Secure Order Form
Mail & Fax Orders
Shipping Rates

Mastercard
Visa, Discover
* * *
Phone Toll Free:
1-877-577-8743
within U.S.A.
* * *
International
1-336-246-2663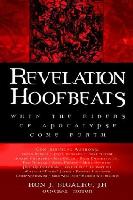 REVELATION HOOFBEATS
When the Riders of the Apocalypse Come Forth

Ron J. Bigalke, Jr, general editor, 2003



Revelation Hoofbeats is a compilation of internationally known Bible prophecy experts including Harold Willmington, Dave Breese, Dave Hunt, and Arno Froese. These authors have written on crucial topics of the day so you can understand the fulfillment of biblical prophecies and explore prophecies for the future. Revelation Hoofbeats shares God's plan of the ages and helps you understand the times ahead. You will discover:
The explosive Middle East situation for the foreseeable future
Insights into the assaulting terrorism of this generation
How the nations fit into Bible prophecy
Balanced and conservative answers to current world events
Stage-setting for the fulfillment of end-time prophecies
Thoughtful ways to accurately communicate the prophetic Word
Why Israel is the focus of all major Bible prophecies to be fulfilled
Eighteen authorities in the field of Bible prophecy examine the world situation today and how those matters may impact your life and the future. They help you gain a thought-provoking understanding about how God is setting the stage for key players and events that will be in place when the riders of Apocalypse come forth.
Contributing Authors: David Benoit, Paul Benware, Dave Breese, Joseph Chambers, Mal Couch, Russ Doughten, Jr, Reg Dunlap, Arno Froese, Mike Gendron, Phillip Goodman, Dave Hunt, Thomas Ice, William "Terry" James, Robert Lightner, Larry Spargimino, Mike Stallard, and Harold Willmington.

---
TABLE OF CONTENTS
INTRODUCTION--HOOFBEATS OF THE APOCALYPSE
SECTION 1--THE COMMUNICATION OF PROPHECY
PRESENTING BIBLE PROPHECY THROUGH FICTION
PROCLAIMING THE PROPHETIC WORD
TEACHING THE PROPHETIC WORD
CONSISTENCY FROM GENESIS TO REVELATION
THE BENEFIT OF STUDYING BIBLE PROPHECY
THE MIND WHICH HAS WISDOM

SECTION 2--THE NATIONS IN PROPHECY
GOD'S JUDGMENT UPON INDIVIDUALS
THE GLOBAL ISLAMIC PERIL
ISLAM AND TERRORISM
THE DESTINY OF AMERICA
THE AXIS OF EVIL: BABYLON
DEMOCRACY IN WORLD GOVERNMENT

SECTION 3--THE MOVEMENT OF PROPHECY
THE EMERGING WORLD RELIGION
THE KINGDOM OF ANTICHRIST
STORIES GIVEN FROM THE KING
STAGE-SETTING OF THE LAST DAYS
SEQUENCE OF END-TIME EVENTS
CONTROVERSY OVER PROPHETIC FULFILLMENT

CONCLUSION--LIVING IN LIGHT OF ETERNITY
BIOGRAPHIES OF CONTRIBUTING AUTHORS
END NOTES
---
EDITOR PROFILE
Ron J. Bigalke, Jr. (B.S., Moody Bible Institute; m. Apol., Columbia Evangelical Seminary; Ph.D. candidate, Tyndale Theological Seminary) is founder and director of Eternal Ministries, a discipleship and evangelistic ministry dedicated to teaching and proclaiming the Word of god. Ron is a professor at the Florida extension of Moody bible Institute. He is also a member of the Conservative Theological Society, Evangelical Philosophical Society, and Pre-Trib Research Center (founded by Drs. Tim LaHaye and Thomas Ice).

---
BOOK SPECIFICATIONS
363 pages, paper.
ISBN 1591608732