Home
About Us
FAQ
Privacy Policy
Contact Us
Books
DVDs
VHS
Charts
Audio Books
General Information
Secure Order Form
Mail & Fax Orders
Shipping Rates

Mastercard
Visa, Discover
* * *
Phone Toll Free:
1-877-577-8743
within U.S.A.
* * *
International
1-336-246-2663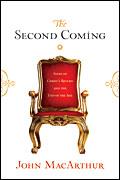 THE SECOND COMING

John MacArthur, 2006



God's Word assures us of the Second Coming and commands us to know the signs of the times, to remain watchful, and to always be ready for Christ's return--whenever it may be. This book is a straightforward, in-depth exploration of the key biblical texts regarding the Second Coming: most notably, Christ's longest and most important message about the end time, the Olivet Discourse.

---
TABLE OF CONTENTS
Introduction
Why Christ Must Return
Is Christ's Coming Imminent?
Christ's Greatest Prophetic Discourse
Birth Pangs
The Great Tribulation
Signs in the Sky
Does Anybody Really Know What Time It Is?
The Danger of Foolish Expectations
The Tragedy of Wasted Opportunity
The Judgment of the Sheep and Goats
Epilogue
Appendix: The Imminent Return of the Redeemer by Arthur W. Pink
Glossary
Notes
Scripture Index
General Index

---
AUTHOR PROFILE
John MacArthur is the pastor of Grace Community Church in Sun Valley, California, and president of The Master's College and Seminary. He can be heard on the "Grace to You" radio program, broadcast daily nationwide and in several countries around the world. He is the best-selling author of dozens of books, including Crossway's The Freedom and Power of Forgiveness, Strength for Today, and The Glory of Heaven.

---
BOOK SPECIFICATIONS
240 pages, paper, appendix, glossary, Scripture index, general index.
ISBN: 9781581347579