Home
About Us
FAQ
Privacy Policy
Contact Us
Books
DVDs
VHS
Charts
Audio Books
General Information
Secure Order Form
Mail & Fax Orders
Shipping Rates

Mastercard
Visa, Discover
* * *
Phone Toll Free:
1-877-577-8743
within U.S.A.
* * *
International
1-336-246-2663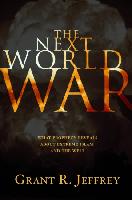 THE NEXT WORLD WAR: What Prophecy Reveals about Extreme Islam and the West

Grant R. Jeffrey, 2006



Terrorist attacks in the Middle East and the West are nothing less than a chilling preview of a coming military showdown that will determine if freedom and our way of life will survive. Prophecy expert Grant R. Jeffrey has uncovered evidence that the forces of extremist Islam are committed to destroying Israel and to conquering all of western civilization. Drawing from firsthand interviews and intelligence reports, plus exhaustive research into Scripture, historical trends, religious movements, and current events, Jeffrey is convinced the opening stages of the next world war have begun. The Israeli army will battle the invading forces of Russia and extreme Islam, and God will intervene to defend Israel.

---
TABLE OF CONTENTS
Introduction: The Next World War
PART 1: THE ANCIENT BEGINNING OF THE LAST DAYS
Genesis and the Future

The Roots of Arab Muslim Hatred
Enmity Between Ishmael and Isaac Has Come Home to Roost
God Brings His People Back to the Holy Land
Who Has the Legitimate Claim to Palestine?
Koranic Prophecies of Islam's Defeat
Amazingly, the Muslim Scriptures Predict the Return of Christ

PART II: THE ORIGINS OF ISLAMIC TERRORISM
Why It's Necessary to Understand Islam Before Studying Terrorism

The Warrior Prophet
Muhammad and His Strategy of Conversion by Conquest
The Sixth Pillar of Islam--Jihad
How Holy War Gained Unrivaled Prominence
Osama bin Laden Declares War on the West
The Military Threat from Radical Islam
Al Qaeda's Strategies and Resources
Weaponry, Communications, and Plans for Warfare

PART III: THE DEEPER SIGNIFICANCE OF GLOBAL TERROR
Extreme Islam's Declaration of War Is Foretold in Prophecy

Islam's War Against All Perceived Enemies
The Militant Justification for Violence Against Non-Muslims
Iraq's Terror Connection
Evidence of Saddam Hussein's Support of al Qaeda
The Deeper Threat of Terrorism
The Terrorists' True Goals and How the Media Get It Wrong

PART IV: OUR GENERATION HAS ENTERED THE LAST DAYS
Clear Signs of the Fulfillment of Biblical Prophecy

The Arab War Against Israel
Overwhelming Evidence of the Commitment to Eliminate the Jews from Palestine
Will This War Signal the Last Days?
Signs of the Coming War of Gog and Magog
A New Temple for the Last Days
Developments That Will Set the Stage for the Antichrist
Peace Between Arabs and Jews
How God Will Bring About a Final Reconciliation
Appendix A: The Palestinian Call for Jihad
Appendix B: Plans for the New Sanhedrin
Appendix C: Direct Links Between Iraq and al Qaeda
Appendix D: A Saudi Compares Extremist Islamic Ideology to Nazism
Notes
Selected Bibliography

---
AUTHOR PROFILE
Dr. Grant Jeffrey, PhD, is an internationally respected author, speaker, and Bible researcher who appears frequently on radio and television. An authority on prophecy and apologetics, Grant is the author of more than twenty best-selling books--including Creation, War on Terror, and Armageddon. He and his wife, Kaye, have been in full-time ministry since 1988.

---
BOOK SPECIFICATIONS
210 pages, paper.
ISBN: 1400071062