Home
About Us
FAQ
Privacy Policy
Contact Us
Books
DVDs
VHS
Charts
Audio Books
General Information
Secure Order Form
Mail & Fax Orders
Shipping Rates

Mastercard
Visa, Discover
* * *
Phone Toll Free:
1-877-577-8743
within U.S.A.
* * *
International
1-336-246-2663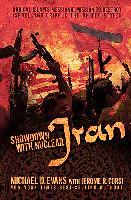 SHOWDOWN WITH NUCLEAR IRAN
Radical Islam's Messianic Mission to Destory Israel and Cripple the United States

Michael D. Evans with Jerome R. Corsi, 2006



A terrifying examination of how Iran's president (a radical Shiite zealot) believes he has a "divine mission" to usher in the apocalypse and thereby herald the second coming of a Shia Muslim messiah-and how he is trying to achieve this by building his arsenal and threatening to cripple America and destroy Israel in a nuclear holocaust.

---
TABLE OF CONTENTS
Preface ISRAEL, IRAN, AND THE CURRENT CRISIS
Prologue OPERATION: MAHDI
THE REVOLUTION BEGINS
PURSUING THE HOLY BOMB
THE PRESIDENT AND THE MAHDI
WIPING ISRAEL FROM THE MAP
STRATEGIC ALLIANCES
THE SHOWDOWN APPROACHES
THE PROSPECT OF WAR
Epilogue MORAL CLARITY FOR THE DAYS AHEAD
Appendix A LETTER FROM BUSH TO SHARON
Appendix B CONVERSATION WITH GENERAL YA'ALON
Acknowledgments
Notes
Index

---
AUTHOR PROFILE
Michael D. Evans is the author of eighteen books, including the New York Times bestsellers Beyond Iraq: The Next Move and The American Prophecies. He has been a confidant to Israeli leaders for decades. Evans has appeared as a Middle East Expert on hundreds of radio and television shows, including Good Morning, America; Fox and Friends; Hardball; and Nightline. He is an award-winning journalist. His articles have appeared in hundreds of newspapers including the Wall Street Journal, USA Today, the Washington Times and the Jerusalem Post.
Jerome R. Corsi, Ph.D., author of Atomic Iran and founder of the Iran FReedom Walk, has written and coauthored many books and articles. He has appeared on Fox News, CSPAN, and MSNBC, and has logged hundreds of radio interviews about the geostrategic concerns regarding Iran's nuclear ambitions.

---
BOOK SPECIFICATIONS
253 pages, hardcover, appendix, index.
ISBN 1595550755