Home
About Us
FAQ
Privacy Policy
Contact Us
Books
DVDs
VHS
Charts
Audio Books
General Information
Secure Order Form
Mail & Fax Orders
Shipping Rates

Mastercard
Visa, Discover
* * *
Phone Toll Free:
1-877-577-8743
within U.S.A.
* * *
International
1-336-246-2663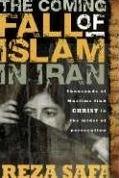 THE COMING FALL OF ISLAM IN IRAN

Reza Safa, 2006



Much more is happening behind the scenes in the Middle East than the media has revealed, leaving America unprepared and unprotected. In this book, Reza Safa, a former Shiite Muslim and a recognized authority on Islamic issues, highlights the past and current Islamic issues in a way that will make readers sit up and take notice. Safa chronicles what god is doing in the Islamic world, including Iran, where thousands of former faithful Muslims are converting to Christianity. The Coming Fall of Islam and Iran portrays a hope of a great future in the Middle East. This book will show readers how Iran is the first Muslim nation where a mass nationwide exodus is taking place among the Muslims, even as Islamic radicalism grows rapidly.

---
TABLE OF CONTENTS
Introduction
God at Work in Iran
The Spirit of Islam
America and Iran at Odds
The Formation of the Islamic Revolution
Muhammad and God at War
America and Islam
The Palestinian Issue
God's Plan for Iran
Iran's Christian Soldiers
Dreams and Visions in Iran
The Challenge of the Church
Notes
Index

---
AUTHOR PROFILE
Reza Safa was raised a devout Shiite Muslim in the country of Iran. He left Iran during the regime of Ayatollah Khomeini and was converted to Christianity in Sweden. He is pastor of Fishermen's House Church and founder of The Harvesters World Outreach, a Tulsa, Oklahoma-based ministry. He produces "Nejat TV," a full-time Christian satellite station in the Persian language.

---
BOOK SPECIFICATIONS
222 pages, paper, index.
ISBN 1591859883