Home
About Us
FAQ
Privacy Policy
Contact Us
Books
DVDs
VHS
Charts
Audio Books
General Information
Secure Order Form
Mail & Fax Orders
Shipping Rates

Mastercard
Visa, Discover
* * *
Phone Toll Free:
1-877-577-8743
within U.S.A.
* * *
International
1-336-246-2663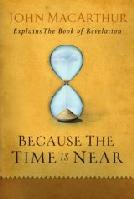 BECAUSE THE TIME IS NEAR
Explains the Book of Revelation

John MacArthur, 2007



For Christians, the end of the world should be anything but dreadful. In fact, it should be something we actually look forward to. Why? Because God has told us how the world will end. And He has assured us that the end of this age will mark the beginning of a new, glorious one in which we will serve and worship Him in sinless perfection. Our eternal hope, as believers, is intimately tied to the end of this world. All of this is laid out in the book of Revelation. Not only is Revelation the inspired Word of God, it is also the only New Testament book that includes a promised spiritual blessing for those who study and apply its message. As such, it is an essential part of every Christianís devotional life. Those who ignore Revelation deprive themselves of a rich treasure of divine truth, and the promised blessings that come from understanding that truth. Join John MacArthur as he explains the book of Revelation in a way that is both doctrinally precise and intensely practical.

---
TABLE OF CONTENTS
Introduction
Part 1
"The Things Which You Have Seen" (1:1-20)
The Prologue of Christ's Revelation (1:1-8)
The Preview of Christ's Return (1:9-20)

Part 2
"The Things Which Are" (2:1-3:22)

The Letter to the Believers at Ephesus (2:1-7)
The Letters to the Believers at Smyrna and Pergamum (2:8-17)
The Letters to the Believers at Thyatira and Sardis (2:18-3:6)
The Letters to the Believers at Philadelphia and Laodicea (3:7-22)

Part 3
"The Things Which Will Take Place after This" (4:1-22:21)

The Throne of God (4:1-11)
The Worthy One (5:1-14)
The Tribulation's Seal Judgments (6:1-17)
The Tribulation Saints 97:1-17)
The Six Trumpet Judgments (8:1-9:21)
The Little Book and the Two Great Witnesses (10:1-11:14)
The Seventh Trumpet (11:15-19)
The War (12:1-17)
The Beast and His Prophet (13:1-18)
Tribulation Announcements (14:1-20)
The Bowl Judgments (15:1-16:21)
The Religion of Babylon (17:1-18)
The Business of Babylon (18:1-24)
The Second Coming of the Lord Jesus Christ (19:1-21)
The Millennium (20:1-10)
The Great White Throne Judgment (20:11-15)
Everything New (21:1-22:5)
Words of Comfort and Warning (22:6-21)
Notes
Additional Resources
Subject Index

---
AUTHOR PROFILE
JOHN F. MACARTHUR pastors Grace Community Church in Sun Valley, California, and serves as president of the Masterís College and Seminary. A well-known Bible expositor and conference speaker, he has written more than six dozen books, including the MacArthur New Testament Commentary series and the MacArthur Study Bible. He is the Bible teacher on Grace to You, an international radio broadcast.

---
BOOK SPECIFICATIONS
360 pages, paper, bibliography, index.
ISBN 9780802407283