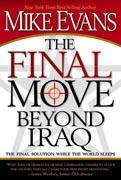 THE FINAL MOVE BEYOND IRAQ
Mike Evans, 2007



Mike Evans addresses the greatest threat America has faced since the Civil War: the Islamic revolution, or Islamofascism. While the United States debates the best way to solve the situation in Iraq, the terrorists are claiming victory and planning to take their show to American soil once again. Drawing from extensive interviews with prime ministers, CIA directors, and other insiders, Evans looks at the history and ideology behind the Islamic revolution to explore its very real threat to U.S. interests -why radical Islamic terrorists will only step back when they fear us, why victory in Iraq is important to U.S. security, why the United States and Israel cannot sit idly by and let Iran achieve its desire for nuclear weapons, and why stabilization in Iraq now would sound defeat rather than victory.
---
TABLE OF CONTENTS
Introduction
PART ONE: THIS PRESENT STRUGGLE
A Prophetic Storm Gathers
Recalibrating America's Moral Compass
What the Future Holds
The Centers of Gravity
The Real Battle for Iraq Begins
The World War Against Terrorism

PART TWO: THE FINAL SOLUTION WHILE THE WORLD SLEEPS

Fumbling Our Ally, Iran
The Rise of Islamofacism
The Nuclear Bomb of Islam
The Battle for the Soul of America
Epilogue
Appendix A: Iranian President Dr. Mahmoud Ahmadinejad's Letter to U.S. President George W. Bush
Appendix B: Iranian President Dr. Mahmoud Ahmadinejad's Letter to the American People
Appendix C: Excerpts From an Interview With Benjamin Netanyahu
Appendix D: Excerpts From an Interview With James Woolsey
Appendix E: Excerpts From an Interview With Retired Army General Hugh Shelton
Appendix F: Excerpts From an Interview With Retired U.S. Navy Captain Charles Nash
Appendix G: Excerpts From an Interview With Retired Israel Defense Forces Lieutenant General Moshe Ya'alon
Appendix H: Excerpts From an Interview With Alan Dershowitz
Appendix I: Excerpts From an Interview With Mort Zuckerman
Appendix J: A 21-Day Study of Iran (Persia), Iraq (Babylon), and Israel in Biblical Prophecy
Appendix K: Comparative Maps of Ancient Persia and Modern-Day Iran
Notes
Index
About the Author

---
AUTHOR PROFILE
Mike Evans is an award-winning journalist who has served as a confidant to leaders in the Middle East for more than two decades. He has appeared on hundreds of network television and radio shows, including Good Morning America, Cross fire, and Nightline, and appears frequently on the FOX Network, CNN World News, NBC, ABC, and CBS. He has won more than fifteen national awards for his prime-time specials based on his books.
Evans is the founder of the Corrie ten Boom Foundation in Holland and the Jerusalem Prayer Team. He is a New York Times best-selling author and a highly sought-after international speaker.

---
BOOK SPECIFICATIONS
344 pages, paper, index.
ISBN 9781599791883