Home
About Us
FAQ
Privacy Policy
Contact Us
Books
DVDs
VHS
Charts
Audio Books
General Information
Secure Order Form
Mail & Fax Orders
Shipping Rates

Mastercard
Visa, Discover
* * *
Phone Toll Free:
1-877-577-8743
within U.S.A.
* * *
International
1-336-246-2663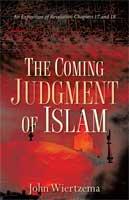 THE COMING JUDGMENT OF ISLAM
An Exposition of Revelation Chapters 17 and 18

John Wiertzema, 2007



If you have ever wondered where Islam fits into the scope of endtime prophecy - YOU MUST READ THIS BOOK! The Coming Judgment of Islam is a serious and in-depth look at one of the most significant and yet misunderstood prophecies in the Bible. This timely and provocative exposition of the Book of Revelation chapters seventeen and eighteen will guide you through some of the most vexing questions as to where we currently are on Godís prophetic timetable.

---
TABLE OF CONTENTS
Part I - The Mother of Harlots
John's Vision
Playing the Harlot
The Blood of the Saints
The Wrath of the Woman
The Beast She Rides In On
The Diaspora of the Crescent

Part II - The Merchant's Cry

Mystery Babylon?
Babylon Is Fallen, Is Fallen
Babylon the Great
Symbols of Devotion
The King of Babylon

Part III - Multitudes, Multitudes in the Valley of Decision

Lying Signs and Wonders
Strong Delusions
The Mark of the Beast
In the Valley of Decision
---
AUTHOR PROFILE
After being called of God into the ministry at the age of nineteen and graduating from Rhema Bible Training Center, John Wiertzema traveled and ministered throughout Brazil seeing many people touched by the power of God. Following his passion, he then embarked on a fervent quest in search of the truth concerning the prophetic scriptures. Today he is known for his insightful and thought-provoking teaching on Bible Prophecy and conveys an important message for our time. Currently, John Wiertzema holds special meetings, training courses, and seminars equipping believers in becoming knowledgeable and skillful in the Word of Truth concerning the Lordís soon return. For more information please visit prophecytrainer.com.

---
BOOK SPECIFICATIONS
167 pages, paper.
ISBN 9781602665002