Home
About Us
FAQ
Privacy Policy
Contact Us
Books
DVDs
VHS
Charts
Audio Books
General Information
Secure Order Form
Mail & Fax Orders
Shipping Rates

Mastercard
Visa, Discover
* * *
Phone Toll Free:
1-877-577-8743
within U.S.A.
* * *
International
1-336-246-2663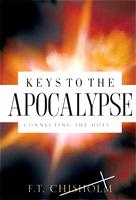 KEYS TO THE APOCALYPSE
Connecting the Dots...
F.T. Chisholm, 2007



Chisholm maintains that the principle key to unlocking Bible prophecy is never found in great, overbearing, complexity-but in a simple willingness to acknowledge what God is saying to us. The reader will find that this is, indeed, the focus of his book: being able to make simple use of prophetic "keys." Not only is that original "eagle's wings" interpretation found here-but another gold mine as well, unveiled in what he calls the "3½ clocks"-a powerful link to Daniel's seventy weeks prophecy, centering around the return of the nation of Israel to her land. These "clocks" then open the way to a serious warning given by Jesus in His parable of the ten virgins. Open this book prayerfully, as you discover the danger (and hope) past midnight when making use of these "keys to the apocalypse."

---
TABLE OF CONTENTS
Preface
SECTION I: Introduction to the Keys: A Message to the Heart
NOT A GENIUS
* a personal introduction
WELCOME TO THE KETTLE
* The danger of staying "in the pot"
OF MONSTERS AND ANGELS
* How big a monster, is the Great Tribulation?
WHAT (CLOCKS) ARE THESE?
* The "3 1/2 clocks"
THRONE ROOM OF THE UNIVERSE
* The tri-dimensional aspect of the Triune God
BE NAKED, OR SAINTS
* Man the naked beast--from the Garden
A FEW HORSEMEN
* The four horsemen (focused on Red & Black)

SECTION II: Conflict of Spirits... from the Heavens: A Message to the Churches

STARTING TO BOIL (a love despised...)
* The amazing parable of ten virgins
IS THAT A FACT?
* The dangers of "Group Think"
THE BEREAN CALL
* What of denominations?
FROM GOD'S TEMPLE --trumpeting from the heavens
* Up to the fifth trumpet
MERCHANDISING THE TEMPLE
* Materialism, a powerful influence
BEHOLD, A GREEN HORSE
* The spoiler: Ishmael's spiritual descendants
---
AUTHOR PROFILE
F.T. Chisholm and his wife live in upstate, New York, where he continues research and writing: prayerfully exposing critical keys to America's destiny, with their consequence in current fads and trends. The time has come to share these vital truths with the body of Christ, at large. There is not a moment to lose.

---
BOOK SPECIFICATIONS
326 pages, paper.
ISBN: 9781602665033