Home
About Us
FAQ
Privacy Policy
Contact Us
Books
DVDs
VHS
Charts
Audio Books
General Information
Secure Order Form
Mail & Fax Orders
Shipping Rates

Mastercard
Visa, Discover
* * *
Phone Toll Free:
1-877-577-8743
within U.S.A.
* * *
International
1-336-246-2663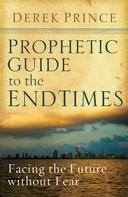 PROPHETIC GUIDE TO THE END TIMES
Facing the Future without Fear

Derek Prince, 2008



When we consider that at least one-quarter of God's written Word is predictive prophecy, notes Derek Prince, we are drawn to its pages with new vision--and great anticipation. Through grounded, scholarly, optimistic and personal insights, this trusted Bible teacher will help you gain new understanding about what to expect as time draws to a close. Topics include
God's promise for Israel
signs in the heavens
the Antichrist
the gathering of the chosen ones
the Great Tribulation
and much more
Even though God's "secret things" remain hidden, believers can study and act on the "revealed things" as He makes them known. Discover how acting on these assures our preservation and ultimate victory--and allows the Church to complete our mission to bring about the final sign of the end.

---
TABLE OF CONTENTS
The Bible Unveils the Future
Waiting with the Right Motivation
Seven Principles of Biblical Prophecy
The "Spine" of Biblical Prophecy
The Beginning of Sorrows
The Chosen Are Gathered
Looking Up: Signs in the Heavens
Societies Like Ours: The Days of Noah and Lot
The Impact of Christ's Return
Fierce Times Will Come
Choosing Light or Darkness
Israel and the Church: Two Covenant Peoples
Objectives of the End Time Church
Arise in Victory
Appendix: The Thens of Matthew 24-25
Subject Index
Scripture Index

---
AUTHOR PROFILE
Derek Prince (1915-2003), founder of Derek Prince Ministries International, wrote more than fifty books. He was educated at Eton College and Cambridge University and studied Hebrew and Aramaic at Cambridge and at the Hebrew University in Jerusalem. His daily radio broadcast, Derek Prince Legacy Radio, still reaches listeners around the world.

---
BOOK SPECIFICATIONS
224 pages, paper, appendix, subject index, Scripture index.
ISBN: 9780800794453