Home
About Us
FAQ
Privacy Policy
Contact Us
Books
DVDs
VHS
Charts
Audio Books
General Information
Secure Order Form
Mail & Fax Orders
Shipping Rates

Mastercard
Visa, Discover
* * *
Phone Toll Free:
1-877-577-8743
within U.S.A.
* * *
International
1-336-246-2663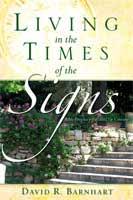 LIVING IN THE TIMES OF THE SIGNS
Bible Prophecy for the 21st Century

David R. Barnhart, 2007



We are living in exciting times. The present generation has witnessed the fulfillment of more prophetic signs than any generation in history; and no more significant sign has been fulfilled than the return of the Jews to the reestablished State of Israel. This book explains Bible prophecy as it applies to events unfolding in the 21st century. Find answers to these questions: What is Israelís place in end-time events? What is Islamís role in Bible prophecy? When and where will the Temple be rebuilt? How will the Israeli/Palestinian conflict be resolved? How close are we to a global religion and a global government? Does the Bible teach about the rapture and the tribulation?

---
TABLE OF CONTENTS
SECTION ONE
LIVING IN THE TIMES OF THE SIGNS

Introduction - Living in the Times of the Signs

Basics of Biblical Prophecy
Rattling of the Bones
Prophecy According to Daniel
The Rise of a World Government
The Rise of a World Religion

SECTION TWO
MILITANT ISLAM--A CLEAR AND PRESENT DANGER

Introduction - Militant Islam--A Clear and Present Danger

Muhammad, the Man and the Myth
The Teachings of Islam
Is Islam A Religion of Peace?
Conflicting Faiths and Values
Russia and the Islamic Confederation

SECTION THREE
GOD'S UNIQUE REVELATION OF PROPHECY

Introduction - God's Unique Revelation of Prophecy

The Jewish Wedding, A Portrait of Prophecy
Signs in the Heavens
The Prophetic Meaning of the Seven Feasts of Israel
Prophecy Through Types
Prophecy and the Temple

SECTION FOUR
THE LORD STILL SPEAKS TO HIS CHURCH

Introduction - The Lord Still Speaks to His Church

The Church in Ephesus
The Church in Smyrna
The Church in Pergamum
The Church in Thyatira
The Church in Sardis
The Church in Philadelphia
The Church in Laodicea
In Times Like These

Appendix
Endnotes
Bibliography
---
AUTHOR PROFILE
David R. Barnhart, pastor, evangelist and prophecy teacher, has made twentysix trips to Israel and visited the sites of the seven churches of Revelation. For the past twenty-four years, he has served as the director of Abiding Word Ministries, an organization that promotes revival and reformation in the churches of America. The author has devoted his life to calling Christians back to the foundational truths of Scripture.

---
BOOK SPECIFICATIONS
491 pages, paper, appendices, bibliography.
ISBN: 9781604770513