Home
About Us
FAQ
Privacy Policy
Contact Us
Books
DVDs
VHS
Charts
Audio Books
General Information
Secure Order Form
Mail & Fax Orders
Shipping Rates

Mastercard
Visa, Discover
* * *
Phone Toll Free:
1-877-577-8743
within U.S.A.
* * *
International
1-336-246-2663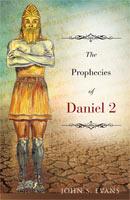 THE PROPHECIES OF DANIEL 2

John S. Evans, 2008



Although Daniel 2:45 states that the great statue composed of four metals and with feet of clay reveals the future, relatively few biblical scholars have understood it as an amazingly accurate timeline that does exactly that. Liberals have been unwilling to consider that the statue's fourth kingdom is Rome. Most conservatives have recognized that it is Rome, but they have gone astray by seeking a nonexistent link between that ancient empire and the modern world. The key to understanding the statue is to recognize that it presents a prophecy that was fulfilled in the first century by the Coming of Christ, which was the historical equivalent of the rock that destroys the statue. The rock's growth into the mountain that covers all of Earth foretells a process that began in the first century and includes the thousand years of Revelation 20. This process appears to have reached a historical climax in our own time.

---
TABLE OF CONTENTS
Preface
Introduction
Historical Highlights
Built by Association
The Feet of Clay
The Prophecy of the Rock
Daniel 2 and Revelation
Building The Mountain
The Release of Satan?
---
AUTHOR PROFILE
John S. Evans is a retired professor of economics and international finance who taught at the University of Alabama from 1968 until 2000 after beginning his teaching career in 1959 at the University of South Dakota. His professional accomplishments included a year in Mexico as a Fulbright Lecturer and the writing of a textbook on international financial management. Since 1996, when he went into partial retirement, his primary intellectual activity has consisted of the intensive study of the Bible, with emphasis on the Book of Daniel. In 2004, he published with Xulon Press The Four Kingdoms of Daniel: A Defense of the "Roman" Sequence with AD 70 Fulfillment. The present book expands on parts of The Four Kingdoms and offers much new material. Evans has authored over thirty articles that have been posted at planetpreterist.com and has been a frequent guest on John Anderson's "Voice of Reason."

---
BOOK SPECIFICATIONS
277 pages, paper, Scripture index, subject index.
ISBN: 9781604779035