Home
About Us
FAQ
Privacy Policy
Contact Us
Books
DVDs
VHS
Charts
Audio Books
General Information
Secure Order Form
Mail & Fax Orders
Shipping Rates

Mastercard
Visa, Discover
* * *
Phone Toll Free:
1-877-577-8743
within U.S.A.
* * *
International
1-336-246-2663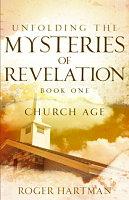 UNFOLDING THE MYSTERIES OF REVELATION
Book One - Church Age

Roger Hartman, 2006



Never before, in the history of mankind, has man been so interested in what the future holds. Never before has the future been so ready to be fulfilled. Everywhere you turn people are saying that the return of Jesus Christ is close at hand. Are you ready to meet Jesus face to face and find out your final destination? Since very few churches are preaching the truth today, you will have to fight this final battle by your own determination. You must not fail for your soul's sake and for the sake of those you love.

---
TABLE OF CONTENTS
The Unfolding Starts
Getting Started
Verses 1-3 Identification of the Giver and to Whom Given
4-8 Salutation to the Churches
9-18 Patmos Vision
19-20 Command to Write
Letters to the Churches
Verses 1-7 Ephesus
8-11 Smyrna
12-17 Pergamos
18-29 Thyatira
Letters continue
Verses 1-6 Sardis
7-13 Philadelphia
14-19 Laodicea
20-22 Final Plea to the Churches to Repent and Turn Back to God
Heaven Scenes, Elders, Living Creatures
Verses 1-3 Throne in Heaven
4-5 The Elders
6-8 Four Living Creatures
Seraphim-Cherubim - Living Creatures
Personal Thoughts
9-11 Worship of Elders and Living Creatures
Seven Sealed Book and the Lamb of God
Verses 1-3 Introduction of the Seven Sealed Book
5-7 Jesus is Worthy - The Slain Lamb
8-10 Jesus is Worshiped - Elders and Living Creatures
11-12 Jesus is Worshiped - Angels
13-14 Jesus is Worshiped - Every Creature
The "Little Book" of Daniel and of Revelation
Daniel - "Shut up and seal the book"
Jesus is worthy to open the book
Jesus gives the "Little Book" to John
The Rapture of the Church
The Rapture
Day of Rapture
Rapture Qualified
Rising to Power
Another Time Frame
Ezekiel's Battle, Chapters 38 and 39

Location
Make Up of the Armies
Results
Destruction By
Time Taking Place
Why is This Battle Necessary

Peace is now Desirable
The Harlot Church
Another Temple
Accepting Jesus as Lord
Unfolding the Mysteries of Revelation Book Number Two
---
AUTHOR PROFILE
Roger Hartman, an instrument in the hand of God, was born and raised in the Ozark Mountains of Missouri. Currently lives in Batesville, Mississippi. A born again Christian that only found God after serving one and a half tours for his country in Vietnam.

---
BOOK SPECIFICATIONS
171 pages, paper.
ISBN 1600342205