Home
About Us
FAQ
Privacy Policy
Contact Us
Books
DVDs
VHS
Charts
Audio Books
General Information
Secure Order Form
Mail & Fax Orders
Shipping Rates

Mastercard
Visa, Discover
* * *
Phone Toll Free:
1-877-577-8743
within U.S.A.
* * *
International
1-336-246-2663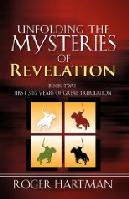 UNFOLDING THE MYSTERIES OF REVELATION
Book Two - First 3 /2 Years of Great Tribulation

Roger Hartman, 2008



Book Two covers the first 3 1/2 years of the Great Tribulation including these subjects:
The Beast of Revelation is now rising.
The Coming Destruction of America.
Anti-Christ and His Islamic helpers slaughter one and one half billion people.
The Battle that covers up the rapture.
Jerusalem becomes "Mystery Babylon."
One-million man army on American soil to rise up and destroy America.
---
TABLE OF CONTENTS
Introduction
Special Thanks
Acknowledgments
Author's Notes
The Jigsaw Puzzle
Contents
Forward

Chapter Number One
Getting Started
Alliance Formed
Little Horn of Daniel and Revelation
Little Horn - Antiochus Epiphanes
Little Horn - Becomes the Anti-Christ of Revelation
Peace Treaty Agreement
Ten Nations of Islam - The Beast
False Prophet
Harlot Church
Chapter Number Two
First Four Seals Opened
Revelation Chapter 6
Chapter Number Three
Special "Thank You"
Explanation of where we get the term "Great Tribulation Period"
Divisions Within
Why called Great Tribulation
Seventy Years of Cleansing
Open the Eyes of Angels
Chapter Number Four
The Two Witnesses
The Death of the Two Witnesses
God Spoils Another Party
Chapter Number Five
Middle of the Tribulation Period
The Rise of the False Prophet
Setting up the Image of the Beast
Setting up the Mark of the Beast
Not taking the Mark of the Beast
Jerusalem Becomes "Mystery Babylon"
Anti-christ Commits the Abomination of Desolations
Chapter Number Six
Revelation Chapter 6:9-11
Opening Seal number Five - Martyred Remnant
Opening Seal number Six - Great Earthquake
Opening Seal number Seven - Silence
Chapter Number Seven
Book Number Three
Last Three and One-Half Years of the "Great Tribulation Period"
Chapter Number Eight
The Coming-Rising Storm
What Nation Does This Describe
The Coming Destruction of America
The Beast of Revelation is now Rising Up
---
AUTHOR PROFILE
Roger Hartman, an instrument in the hand of God, was born and raised in the Ozark Mountains of Missouri. Currently lives in Batesville, Mississippi. A born again Christian that only found God after serving one and a half tours for his country in Vietnam.

---
BOOK SPECIFICATIONS
201 pages, paper.
ISBN 9781604770926