Home
About Us
FAQ
Privacy Policy
Contact Us
Books
DVDs
VHS
Charts
Audio Books
General Information
Secure Order Form
Mail & Fax Orders
Shipping Rates

Mastercard
Visa, Discover
* * *
Phone Toll Free:
1-877-577-8743
within U.S.A.
* * *
International
1-336-246-2663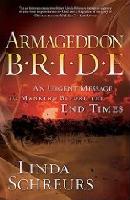 ARMAGEDDON BRIDE: An Urgent Message to Man Before the End Times

Linda Schreurs, 2008



Ordained Minister Linda Schreurs gives a powerful biblical perspective of the times in which we live--the threshold of the End of the Age. The stage is being set for one of the most exciting encounters of all time--Jesus Christ the Bridegroom, coming for you, His bride! Are you ready? Armageddon Bride reveals spiritual battles that can challenge and work against your Christian faith. Get equipped and position yourself as the Bride of Christ to meet your heavenly Bridegroom.

---
TABLE OF CONTENTS
Introduction
Prologue
A Passionate Pursuit
The Dawning of Divine Romance
The Envy of the Enemy
Winning Back the Bride
Compromise--A Lukewarm Dish
Identity Crisis
Persecution
Confusion
Destruction or Discernment? Blood Donor?
God's Word, A Hot Commodity
False Shepherds
Intimacy With God
Code of Conduct
The Romance of Israel
Battleground
The Engraved Wedding Invitation
Prophetic Bridal Showers
The Wedding
Epilogue
Notes

---
AUTHOR PROFILE
Linda Schreurs entered the covent at the age of fifteen to begin a life dedicated to prayer. While she chose another path in her faith journey, her devotion to prayer never wavered. Her spiritual journey has been lively and deep, from life experiences including secular and Christian radio and television, to serving as Women's Ministries Director at a large Assemblies of God church in Des Moines, to becoming an ordained minister with MorningStar Ministries. Linda has pursued a God-directed life. Linda's ministry--Intimacy With God--publishes a monthly journal, and Linda speaks to groups, including Women's Aglow. She also hosts conferences and solitude retreats. Linda and her husband, Mike, have three daughters and three grandchildren.

---
BOOK SPECIFICATIONS
229 pages, paper.
ISBN 9781599793757