Home
About Us
FAQ
Privacy Policy
Contact Us
Books
DVDs
VHS
Charts
Audio Books
General Information
Secure Order Form
Mail & Fax Orders
Shipping Rates

Mastercard
Visa, Discover
* * *
Phone Toll Free:
1-877-577-8743
within U.S.A.
* * *
International
1-336-246-2663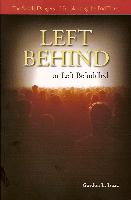 LEFT BEHIND OR LEFT BEFUDDLED
The Subtle Dangers of Popularizing the End Times

Gordon L. Isaac, 2008



The extraordinary success of the Left Behind series by Tim LaHaye and Jerry Jenkins shows that their action/adventure novels have tapped into the American psyche. It has revived our fascination with vivid images of the book of Revelation and other biblical texts: the Antichrist, the mysterious number 666, and people suddenly "raptured" into the sky by God. But is there something dangerous behind the thinking in these books and how they play out in our world today? In Left Behind or Left Befuddled, Gordon Isaac takes the reader inside the theology behind the series. In clear and accessible prose, Isaac answers many important questions that Christians have about the phenomenon that is Left Behind.

---
TABLE OF CONTENTS
Preface
What's All the Fuss About?
The Rise of Dispensationalism
The Secret Rapture of the Church
Israel: God's People or God's Time Clock?
The Subtle Dangers of End Times Teaching
Recapturing the Christian Imagination
A Concluding Word
Notes
Name Index
Scripture Index
Subject Index

---
AUTHOR PROFILE
Gordon Isaac is the Berkshire Associate Professor of Advent Christian Studies in the church history department at Gordon-Conwell Theological Seminary in Massachusetts. He is also an ordained Advent Christian minister who has served a number of congregations.

---
BOOK SPECIFICATIONS
168 pages, paper, name index, Scripture index, subject index.
ISBN 9780814624203