Home
About Us
FAQ
Privacy Policy
Contact Us
Books
DVDs
VHS
Charts
Audio Books
General Information
Secure Order Form
Mail & Fax Orders
Shipping Rates

Mastercard
Visa, Discover
* * *
Phone Toll Free:
1-877-577-8743
within U.S.A.
* * *
International
1-336-246-2663
INSTIGATORS OF THE APOCALYPSE
How Those with False Interpretations of the Book of Revelation Influenced Wars and Revolutions in the History of Western Civilization

Kevin Timothy O'Kane, 2014


$13.95
Retail $14.95
Ships within
24 hours!


In the fourth and fifth centuries, certain Christian leaders rejected the earlier church fathers' futurist, premillennial interpretation of John's Revelation, putting forth hyper-symbolic interpretations and inciting false prophecies of the end of the world that would lead to wars and revolutions. This book however, is not an investigation of a stagnant past. Those who initiate violence in beholf of their view of the apocalypse are still among us. Instigators of the Apocalypse explores the history of Christian eschatology to find the details of the past that connect us to the current situations that seem to be propelling us to the edge of Armageddon. 321 pages, paperback.
More Information, Table of Contents, Author Profile
---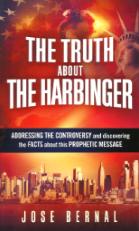 THE TRUTH ABOUT THE HARBINGER
Addressing the Controversy and Discovering the Facts About This Prophetic Message

Jose Bernal, 2013


$7.95
Ships within
24 hours!


From its initial release, The Harbinger by Jonathan Cahn has become a national phenomenon, hailed by readers, pastors, and American leaders alike and described as "amazing," "stunning," and "mind-blowing." The Harbinger reveals an ancient biblical mystery and the danger of judgment America faces as it departs ever further from God. But with such popularity comes inevitable questions and discussion. In The Truth About The Harbinger, Jose Bernal investigates the facts behind this New York Times best-selling book. With a strong biblical foundation, in-depth analysis of each point and issue, and a look at the book's phenomenon and impact, including the lives changed by its message, The Truth About The Harbinger will encourage you to pray for America and stand for the truth. 237 pages, mass market paperback.
More Information, Table of Contents, Author Profile
---
THE HARBINGER: Fact or Fiction?

David James, 2012


$14.95
Retail $15.99
Ships within
24 hours!


In The Harbinger: Fact or Fiction? author David James exhaustively documents and responds to the serious flaws found throughout the New York Times best-seller from Charisma Media, The Harbinger. Messianic rabbi Jonathan Cahn believes he has discovered an "ancient mystery" in Isaiah:9:10 that "explains everything from 9/11 to the collapse of the global economy."¯ As Cahn states at the beginning of his book "What you are about to read is presented in the form of a story, but what is contained within the story is real."¯ Many have accepted Cahn's message as being genuinely from God. However, David James has clearly demonstrated that The Harbinger falls far short of meeting the biblical requirements for such a message from God, being based on the mishandling of Scripture, faulty theology, misleading statements, the selective use of historical facts, and unsupported speculation. 223 pages, paperback.
More Information, Table of Contents, Author Profile
Harbinger Products from Jonathan Cahn
---
DECODING HELL'S PROPAGANDA
Sharpening Your Discernment

Brenda Kunneman, 2010


$15.95
Retail $16.99
Ships within
24 hours!


Are you being lured into accepting the wrong ideals? Do you really have the discernment skills needed to weather the dangerous last days the Bible talks about? Decoding Hell's Propaganda teaches Christians how to receive fresh, sound revelation, while being alert and discerning enough to recognize false teachings and deceptions. Believers must sharpen their skills in spiritual discernment. The good news is that you can discern the truth and stay protected if you practice some important safeguards. Through Scripture and personal stories, the author's candid style reveals truths and thought-provoking issues, including how to:
Operate in true biblical discernment without becoming critical and judgmental.
Recognize key signs when a seducing spirit is at work.
Know the difference between a simple error in biblical interpretation and the more serious doctrines of error.
Rightly divide the Word of Truth.
Deal with the increased and unrelenting temptations of the day.
With the right principles in place, you can follow the truth and avoid hell's propaganda! 241 pages, paperback.
More Information, Table of Contents, Author Profile
---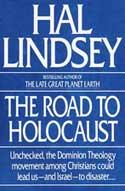 THE ROAD TO HOLOCAUST
Hal Lindsey, 1989


$18.95
Ships within
24 hours!


Here is bestselling author Hal Lindsey's most shocking revelation ever: the disquieting facts about a new spiritual movement that would take over our churches and government and lead us to disaster. Just as current events are converging into the precise pattern the biblical prophets predicted would herald the return of Jesus Christ, a new movement has arisen with the Evangelical Church that denies it all--allegorizing away the clear meaning of prophecy. This movement, commonly known as Dominion Theology, reintroduces an old error that brought catastrophe to the Church and the Dark Ages to the world--the same error that founded a legacy of contempt for the Jews and ultimately led to the Holocaust of Nazi Germany. 295 pages, paper
More Information, Table of Contents, Author Profile
More Hal Lindsey Books


---
FALSE MESSIAH: The Ministry of Father Divine and the Influences of New Thought Theology on the Ministry of Father Divine
R. Mack Pumphrey, 2007


$7.50
Retail $14.95
Save $7.45 (50%)
Ships within
24 hours!


"Many shall come in my name, saying I am Christ; and shall deceive many." -Matthew 24:5 In the twentieth century alone, more than one thousand so-called "false Christs" have appeared. Many are of the view that Father Divine was one of these. We read in 1st John 4:1: "Beloved, believe not every spirit, but try the spirits whether they are of God: because many false prophets are gone out into the world." Nothing is more timely or more needful than discernment in today's church - the ability to recognize truth and distinguish it from error. In Revelation 3:11 Jesus is quoted again as saying, "Behold I come quickly: hold that fast which thou hast, that no man take thy crown." 201 pages, paper.
More Information, Table of Contents, Author Profile.


---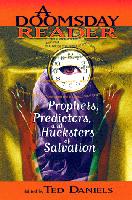 A DOOMSDAY READER: Prophets, Predictors, and Hucksters of Salvation

Ted Daniels, editor, 1999


$34.95
Ships within
24 hours!


Daniels has been collecting prophetic material from more than twelve hundred print and electronic sources since 1992. He lets the prophets speak for themselves. He's compiled an array of prophetic material from original sources: Communist Manifesto, Mein Kampf, World Scientists' Warning to Humanity, The Protocols of the Elders of Zion, The Turner Diaries, and others. 251 pages, paper, bibliography, index.
More Information, Table of Contents, Author Profile
---
DOOMSDAY DELUSIONS
What's Wrong With Predictions About the End of the World
C. Marvin Pate & Calvin B. Haines Jr., 1995


$8.95
Ships within
24 hours!


Pate and Haines dispel the myths of many popular doomsday prophets, showing how they misinterpret and misapply the Bible. They then examine the social and psychological consequences of the doomsday mentality and offer a constructive view of how the expectation of the Lord's return should affect our lives today.
180 pages, paper, bibliography


---
TOP | HOME
Copyright 1998-2016 by Cliffside Publishing House