Home
About Us
FAQ
Privacy Policy
Contact Us
Books
DVDs
VHS
Charts
Audio Books
General Information
Secure Order Form
Mail & Fax Orders
Shipping Rates

Mastercard
Visa, Discover
* * *
Phone Toll Free:
1-877-577-8743
within U.S.A.
* * *
International
1-336-246-2663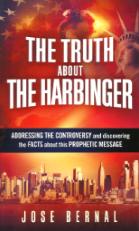 THE TRUTH ABOUT THE HARBINGER
Addressing the Controversy and Discovering the Facts About This Prophetic Message

Jose Bernal, 2013



From its initial release, The Harbinger by Jonathan Cahn has become a national phenomenon, hailed by readers, pastors, and American leaders alike and described as "amazing," "stunning," and "mind-blowing." The Harbinger reveals an ancient biblical mystery and the danger of judgment America faces as it departs ever further from God. But with such popularity comes inevitable questions and discussion. In The Truth About The Harbinger, Jose Bernal investigates the facts behind this New York Times best-selling book. With a strong biblical foundation, in-depth analysis of each point and issue, and a look at the book's phenomenon and impact, including the lives changed by its message, The Truth About The Harbinger will encourage you to pray for America and stand for the truth.

---
TABLE OF CONTENTS
Section I: An Overview of The Harbinger and What's Being Said About It
The Phenomenon of The Harbinger
The Mystery, the Message, and the Warning
The Harbingers: Alive and Well (Part 1)
The Harbingers: Alive and Well (Part 2)
Other Mysteries of The Harbinger Explained
The Meaning of the Word
The Isaiah 9:10 Connection
Prophecy, Pattern, or Coincidence?

Section II: Deeper Explanations of the Truth of The Harbinger

The Truth About America's Founding
Israel and America: Unique Among Nations
The True America-Israel Connection
Mysticism, Dreams, Kabbalah, and the Enlightment
The Importance of Good Discernment
Does The Harbinger Add to Scripture?
Does The Harbinger Preach the Gospel?
Promoting The Harbinger Promotes the Gospel
The Fall of Sam
What's Next?

Notes
---
AUTHOR PROFILE
Jose Bernal is a teacher of biblical doctrine, hermeneutics, history, and theology, and he hosts a blog called The Pepster's Post: A Voice in Cyberspace on which he writes on faith, history, religion, and current political and sociological trends.

---
BOOK SPECIFICATIONS
237 pages, mass market paperback.
ISBN 9781621365693