Home
About Us
FAQ
Privacy Policy
Contact Us
Books
DVDs
VHS
Charts
Audio Books
General Information
Secure Order Form
Mail & Fax Orders
Shipping Rates

Mastercard
Visa, Discover
* * *
Phone Toll Free:
1-877-577-8743
within U.S.A.
* * *
International
1-336-246-2663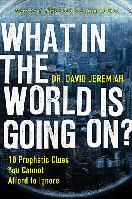 WHAT IN THE WORLD IS GOING ON?
10 Prophetic Clues You Cannot Afford to Ignore

Dr. David Jeremiah, 2008



The Bible has much to say about the end times. Yet it is hard to piece together all that information in a way that gives a comprehensive picture of what that time period will look like. That's why so many theories abound. And that's why Dr. David Jeremiah has written What In the World Is Going On?, a unique book that cuts through the hundreds of books and numerous theories to identify the essential 10 most important bible prophecies. There is no other prophecy book like this. You'll find it the ultimate study tool for understanding the future. And this book will also motivate readers to live a more holy life and make greater efforts in evangelism. If bible prophecy as always been a mystery to you, Dr. Jeremiah's book will help you solve the mystery. At last, bible prophecy can make sense, and make a difference. Bible prophecy does not have to be confusing. What In the World Is Going On? is shocking and eye-opening but essential reading in a world of confusing theories.

---
TABLE OF CONTENTS
Acknowledgments
Introduction: Knowing the Signs
The Israel Connection
The Crude Awakening
Modern Europe ... Ancient Rome
Islamic Terrorism
Vanished Without a Trace
Does America Have a Role in Prophecy?
When One Man Rules the World
The New Axis of Evil
Arming for Armageddon
The Return of the King
Appendix A: Jewish Population Statistics
Appendix B: Conventional Oil Reserves by Country, June 2007
Notes

---
AUTHOR PROFILE
Dr. David Jeremiah is the senior pastor of Shadow Mountain Community Church in El Cajon, California. He is the author of several best-selling books, and his popular syndicated radio and television Bible-teaching program, Turning Point, is broadcast internationally. David and his wife, Donna, have four children and ten grandchildren.

---
BOOK SPECIFICATIONS
259 pages, paperback.
ISBN 9780785231172