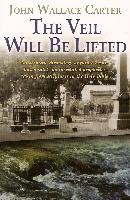 THE VEIL WILL BE LIFTED
An accurate chronology of future events - based soley on correlated prophecies - taken from scriptures in the Holy Bible

John Wallace Carter, 2003



Does the Bible identify an imminent rapture of Christians which could happend at any time?

When did Jesus Christ say that He would return to earth?

Do the ten nations to be allied with the Anti-Christ exist in the world today?

Why don't most Jewish people recognize that Jesus Christ is the Messish?

What events will occur next in our future as revealed in prophecies in the Holy Bible?

The Veil will Be Lifted provides readers with a "history of future events" so that they will know the order of each future event before it occurs, based solely on prophecies in the Holy Bible. This book is "must reading" for all people who wish to know what God has revealed will occur in our future.

---
TABLE OF CONTENTS
Preface
The Nature of God and the Characteristics of Satan
An Overview of Resurrections from the Dead
Our Immediate Future in Bible Prophecy
Events Preceding the Day of the Lord
The Day of the Lord Begins
The Beast Called Anti-Christ and His Ten Allied Nations
Victory of the Righteous Judge at Armageddon
The Millennial Reign of God's Justice on Earth
The Final Battle Against Satan
New Heavens and a New Earth
---
AUTHOR PROFILE
John Wallace Carter received his B.A. from Missouri University and his law degree from St. Louis University Law School. He was an attorney for several years before serving as a federal Administrative Law Judge for 26 years. Now retired he lives in the Missouri Ozarks.
---
BOOK SPECIFICATIONS
174 pages, paper.
ISBN 189252595X