Home
About Us
FAQ
Privacy Policy
Contact Us
Books
DVDs
VHS
Charts
Audio Books
General Information
Secure Order Form
Mail & Fax Orders
Shipping Rates

Mastercard
Visa, Discover
* * *
Phone Toll Free:
1-877-577-8743
within U.S.A.
* * *
International
1-336-246-2663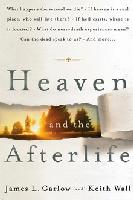 HEAVEN AND THE AFTERLIFE

James L. Garlow and Keith Wall, 2009



Written in a popular style, Heaven and the Afterlife touches on many topics related to life after death, including amazing near-death experiences, accounts from the Bible, testimonies, theories, and what some of the world's religions believe. It will demystify the afterlife with information about heaven, hell, ghosts, angels, near-death experiences, and much more, helping readers gain a solid understanding of the often-confusing subject of life after death. The book culminates by presenting Jesus as the answer to eternal peace and how readers can spend eternity with him. Garlow and Wall write not only for believers, but also for seekers or anyone looking for straight, simple answers to the fascinating subject of the world beyond this life.

---
TABLE OF CONTENTS
Part One: THROUGH DEATH'S DOOR

The Undiscovered Country

The Veil Between Life and the Afterlife Is Thinner Than We Think

There... and Back Again

The Near-Death Experience: A Miracle of Modern Medicine

Hints at the Hereafter

For Most People, "Near Death" Is a Doorway to Indescribable Light and Love

A Taste of Torment

Not All Roads After Life Lead to the Light

Part Two: WHAT LIES BETWEEN WORLDS

Things That Go Bump in the Night

Yes, Virginia, There Really Could Be a Ghost in the Attic

Grace-Filled Guests

A Visitation From a Deceased Loved One Is a Gift to Be Accepted Gratefully

Calling Long Distance

Death May Be the Last Word in Life... But Can Communication Continue?

Angels Among Us

God's Messengers Provide Protection and Provision

More Than a Pitchfork and a Pointy Tail

The Great Adversary, Satan, Prowls Like a Hungry Lion

Demons in the Dark

Emissaries of Evil Bring Chaos and Confusion

Part Three: CROSSING OVER: THE UPWARD CALL

A Delightful Detour

The First Heaven Is a Temporary Stopover Before Permanent Paradise

A Rewarding Experience

God's Children Have Nothing to Fear of Judgment Day

Beyond Halos, Harps, and Hymns

Permanent Heaven Is a Place of Riches, Rest, and Rewards

Part Four: CROSSING OVER: THE DARK DESCENT

Going from Bad to Worse

Hades Is a "Horrible Holding Tank" for Those Awaiting a Final, Fiery Destination

Called to Account

The Great White Throne of Judgment--Where Punishment Is Handed Out

The Heat Is On

Hell Is an Indescribable Punishment for Those Who Reject Salvation

Part Five: HELL - AVOIDANCE STRATEGIES

The Ultimate Escape Hatch

Universalism Suggests That All Will Be Saved in the End

Disappearing Acts

Annihilationism Proposes That Those Without Faith Will Cease to Exist

The Celestial Waiting Room

Is Purgatory Really a Stopover on the Way to Heaven?

Recycling Plan

If Millions of People Believe in Reincarnation, Could There Be Something to It?

Part Six: CONFIDENT BEFORE THE KING

Forever and Ever, Amen

God Wants You to Be Comfortable With Him in This World and the Next

Notes
---
AUTHOR PROFILES
Dr. Jim Garlow is senior pastor of Skyline Church in San Diego, and a speaker nationwide. He has appeared on CNN, Fox, NBC, and other media outlets. The Garlow Perspective commentary is heard on nearly 700 radio stations. He has master's degrees from Princeton and Asbury seminaries and a PhD from Drew University.
Keith Wall, a twenty-year publishing veteran, writes full time in collaboration with a number of bestselling authors.

---
BOOK SPECIFICATIONS
270 pages, paper.
ISBN 9780764205767