Home
About Us
FAQ
Privacy Policy
Contact Us
Books
DVDs
VHS
Charts
Audio Books
General Information
Secure Order Form
Mail & Fax Orders
Shipping Rates

Mastercard
Visa, Discover
* * *
Phone Toll Free:
1-877-577-8743
within U.S.A.
* * *
International
1-336-246-2663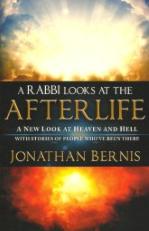 A RABBI LOOKS AT THE AFTERLIFE
A New Look at Heaven and Hell with Stories of People Who've Been There

Jonathan Bernis, 2014


$14.95
Retail $15.99
Ships within
24 hours!


Jonathan Bernis takes you on an unforgettable journey of exploration -- examining both the Scriptures and the first-hand accounts of those who have glimpsed at what lies beyond the veil of death. It's an eye-opening journey that empowers you to re-imagine Heaven and get a clearer vision of the glorious eternity that awaits all Believers. When the afterlife becomes more real, you will live every moment in the light of eternity. And it will fuel your passion for sharing the key to eternal life with others. 256 pages, paperback.
More Information, Table of Contents, Author Profile
---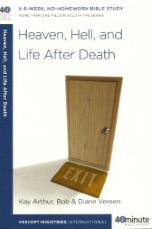 HEAVEN, HELL, AND LIFE AFTER DEATH
40 Minute Bible Studies Series
A 6-Week, No-Homework Bible Study

Kay Arthur, Bob & Diane Vereen, 2014


$7.95
Ships within
24 hours!


Many people are intrigued by what lies beyond death's door, but we live in an age bombarded with conflicting views. How can we be sure of what is true? In this eyeopening study, you'll examine the Bible's answers about death and what comes next. As you confront the inevitability of death in the context of the promise of heaven and the reality of hell, you will be challenged to examine your heart--and in doing so, find that, in grabbing hold of the hope of eternal life, the sting of death is replaced with peace. The six weekly studies include: "Why Do We Have to Die?", "Can We Live Again After Death?", What Can We Know About Resurrection?", "What Comes After Death for the Believer?", "What Comes After Death for the Unrepentant?", "What Can We Know for Certain About Heaven?". 111 pages, paperback.
---
WHAT HAPPENS AFTER LIFE?
21 Amazing Revelations About Heaven and Hell

Ron Rhodes, 2014



Do you wonder what happens when you die? If so, you'll love these short, inspirational explanations of the Bible's most encouraging teachings about heaven. Trusted Bible teacher Ron Rhodes combines his rock-solid scriptural insight with illustrations from leaders throughout church history. Each chapter is short enough to read in one sitting and zeroes in on a single encouraging truth. You will quickly find your fears and doubts replaced with confidence in these truths:
Death is a transition into a wonderful life, not a fearful end.
You will enjoy eternity in a wonderful new body.
You will be reunited with Christian loved ones.
Sin, sorrow, sickness, and pain will be no more.
Best of all, you will enjoy face-to-face fellowship with God.
Bypassing philosophical arguments and contentious debates, this reassuring look at the clear teaching of the Bible will empower you to embrace the future with hope and joy. 170 pages, paperback.
More Information, Table of Contents, Author Profile
More Books by Ron Rhodes
---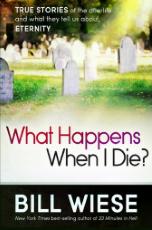 WHAT HAPPENS WHEN I DIE?
True Stories of the Afterlife and What They Tell Us About Eternity

Bill Wiese, 2013



Is there life after death? Do heaven and hell really exist? What happens to me when I die? Will I see my loved ones? New York Times best-selling author Bill Wiese answers these all-important questions and explains some of the fascinating stories that people have shared with him as he has traveled to speak about his own supernatural experience. You will be surprised, and maybe even shocked, as you read about:
Near-death experiences
Deathbed visions
People's last words
Visits to heaven and hell
Each encounter, visit, and visitation is then held up against Scripture, demonstrating how they line up with the Word of God. In a moment our lives will be over. We are all only a heartbeat away from eternity, and there are no second chances. What will you decide? 202 pages, paperback.
More Information, Table of Contents, Author Profile
---
AFTERLIFE
What You Need to Know About Heaven, The Hereafter & Near-Death Experiences

Hank Hanegraaff, 2013



If there was ever a need-to-know book, AfterLife is it. On his daily call-in radio show, the most common questions Hanegraaff fields are about the hereafter. For instance, millions are voraciously reading about the near-death experiences of young children. Consumers are desperate for knowledge and reassurance about what comes after life on this earth. Hank Hanegraaff, one of the most remarkable theological minds of the 21st century, explains the marvelous way this physical life connects our past to our eternal future. AfterLife gives readers a clear and concrete understanding about what happens after death to us and to those we love. 239 pages, hardcover, glossary.

More Information, Table of Contents, Author Profile
---
SECRETS FROM BEYOND THE GRAVE

Perry Stone, 2010



Perry Stone brings his unique blend of Bible knowledge, prophecy, and spiritual insight to the topic of heaven and hell in this comprehensive look at the afterlife. Exploring the unseen world of departed souls, he answers important questions such as:
Where do the soul and spirit go after death?
Who will be in heaven? Will our pets be there?
Where is hell located?
Are there "gateways" within the geography of the earth?
What about purgatory, aborted infants, cremation, and suicide?
Death is not the end but only the beginning. Jour with Pastor Stone into the mysteries of life after death, the underworld, and the wonder of paradise. 246 pages, paperback.
More Information, Table of Contents, Author Profile
---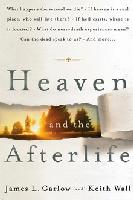 HEAVEN AND THE AFTERLIFE

James L. Garlow and Keith Wall, 2009



Written in a popular style, Heaven and the Afterlife touches on many topics related to life after death, including amazing near-death experiences, accounts from the Bible, testimonies, theories, and what some of the world's religions believe. It will demystify the afterlife with information about heaven, hell, ghosts, angels, near-death experiences, and much more, helping readers gain a solid understanding of the often-confusing subject of life after death. The book culminates by presenting Jesus as the answer to eternal peace and how readers can spend eternity with him. Garlow and Wall write not only for believers, but also for seekers or anyone looking for straight, simple answers to the fascinating subject of the world beyond this life. 270 pages, paper.

More Information, Table of Contents, Author Profiles
---
TOP | HOME
Copyright 2013-2014 by Cliffside Publishing House