Home
About Us
FAQ
Privacy Policy
Contact Us
Books
DVDs
VHS
Charts
Audio Books
General Information
Secure Order Form
Mail & Fax Orders
Shipping Rates

Mastercard
Visa, Discover
* * *
Phone Toll Free:
1-877-577-8743
within U.S.A.
* * *
International
1-336-246-2663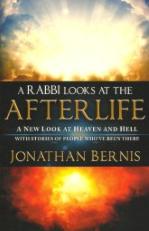 A RABBI LOOKS AT THE AFTERLIFE
A New Look at Heaven and Hell with Stories of People Who've Been There

Jonathan Bernis, 2014


$14.95
Retail $15.99
Ships within
24 hours!


Jonathan Bernis takes you on an unforgettable journey of exploration -- examining both the Scriptures and the first-hand accounts of those who have glimpsed at what lies beyond the veil of death. It's an eye-opening journey that empowers you to re-imagine Heaven and get a clearer vision of the glorious eternity that awaits all Believers. When the afterlife becomes more real, you will live every moment in the light of eternity. And it will fuel your passion for sharing the key to eternal life with others.



---
TABLE OF CONTENTS
PART ONE - INTRODUCTION
Is There Life after Death?
Heaven, Hell, and Near-Death Experiences

PART TWO - HEAVEN

Looking for Paradise
Ancient and Modern Jewish Views of Heaven
The Christian View of Heaven

PART THREE - HELL

Is Hell for Real?
Ancient and Modern Jewish Views of Hell
The Christian View of Hell

PART FOUR - THOSE WHO HAVE GONE BEYOND THE VEIL

Voices from the Other Side
Howard Storm
Dr. Gary L. Wood
Don Piper
Bill Wiese
Curtis "Earthquake" Kelley
Dean Braxton
Which Road Will You Choose?
Endnotes

---
AUTHOR PROFILE
Jonathan Bernis is the president and CEO of Jewish Voice Ministries International. His television show, Jewish Voice with Jonathan Bernis, is broadcast throughout the world. He has authored a number of popular books and is a frequent speaker at conferences and seminars throughout the USA and abroad. A leader in the Messianic Jewish Movement for over 30 years, Rabbi Bernis and his wife, Elisangela, live in Phoenix with their two daughters, Liel and Hannah.

---
BOOK SPECIFICATIONS
256 pages, paperback.
ISBN 9780768404104