Home
About Us
FAQ
Privacy Policy
Contact Us
Books
DVDs
VHS
Charts
Audio Books
General Information
Secure Order Form
Mail & Fax Orders
Shipping Rates

Mastercard
Visa, Discover
* * *
Phone Toll Free:
1-877-577-8743
within U.S.A.
* * *
International
1-336-246-2663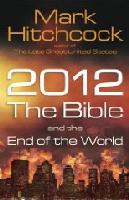 2012, THE BIBLE, AND THE END OF THE WORLD

Mark Hitchcock, 2009



In 2012, the Bible, and the End of the World, bestselling prophecy expert Mark Hitchcock explores a fascinating last-days controversy that is gaining the attention of millions all over the globe. What should Christians make of the rapidly spreading speculations that the world will end on December 21, 2012? The ancient Mayans were expert astronomers and their advanced calendar cycles predict 12/21/2012 as a catastrophic day of apocalypse. This prophecy has spawned a growing number of fringe-element books, Web sites, and even a major movie—complete with all-star cast—scheduled to release in November, 2009. Missing in the furor is a biblical perspective. Bible teacher Mark Hitchcock—whose books have sold more than 500,000 copies—examines the following questions:
Why December 21, 2012?
Can we trust the Mayan alarm clock?
Does the Bible say anything about 2012
What signs will tell us that Armageddon is near?
This book provides a fascinating survey of both the historical past and the prophetic future. Readers will discover how to effectively counter baseless speculation with biblical fact. View: Premillennial Pre-Tribulation

---
TABLE OF CONTENTS
Introduction
12.21.12--The End of the World as We Know It?
Has the Final Countdown Begun?
An Ancient Doomsday Clock?
Back to the Future
Apocalypse Now?
Predictions, Prophecies, and Possibilities
The Lost Book of Nostradamus
Peering into the Crystal Ball
Bible Codes, the Book of Revelation, and Armageddon
Is 2012 in the Bible?
Computers and 2012
The Web Bot Project
Does Anybody Really Know What Time It Is?
Date-setters and the End of the World
Can Anyone Know the Future?
The Search for Answers
Future Tense
What on Earth Is Going to Happen?
In the End, God
How Will the World End?
Scanning the Horizon
What 2 Look 4
2012 and You
Facing Your Future
Notes

---
AUTHOR PROFILE
Mark Hitchcock, the pastor of Faith Bible Church in Edmond, Oklahoma, has a PhD from Dallas Theological Seminary. He has written more than a dozen books on the Bible and the end times, including The Complete Book of Bible Prophecy, Cashless, and Iran: The Coming Crisis.

---
BOOK SPECIFICATIONS
184 pages, paper.
ISBN 9780736926515