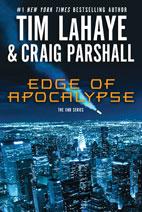 EDGE OF APOCALYPSE
The End Series Volume I

Tim LaHaye & Craig Parshall, 2010


---
Edge of Apocalypse pulls you into an adrenaline-fueled political thriller laced with End Times prophecy. From Tim LaHaye, creator and co-author of the world-renowned Left Behind series—the most successful adult fiction series ever written—and Craig Parshall comes an epic story ripped from the headlines of world events and filtered through Scriptural prophecy. Set in the near future, Edge of Apocalypse chronicles the beginning of The End—the earth-shattering events leading up to the Apocalypse foretold in Revelation.
From the inside flap: Joshua Jordan, former U.S. spy-plane hero turned weapons designer, creates the world's most sophisticated missile defense system, a laser shield code-named Return-to-Sender. Even as Jordan hopes to secure America against a brazen array of new enemies, he finds himself trapped between international as well as domestic assailants. Global forces conspire to steal the defense weapon even as U.S. government leaders will do anything to stop the nation's impending economic catastrophe--including selling our Jordan and his weapon.
With help from a group of powerfully connected Christian leaders known as the Patriots, Jordan works to save the nation from economic and moral collapse--and to clear his name. As world events begin setting the stage for the "end of days" foretold in Revelation, Jordan must consider not only the biblical prophecies preached by his wife's pastor, but the personal price he must pay if he is to save the nation he loves.

---
TRAILER
---
AUTHOR PROFILES
Tim LaHaye is The New York Times bestselling author of more than seventy nonfiction books, many on biblical prophecy and the End Times, and is the coauthor of the record-shattering Left Behind Series. He is considered one of America's foremost authorities on biblical end-times prophecy.
Craig Parshall serves as senior vice president and general counsel for the National Religious Broadcasters and has authored seven bestselling suspense novels.

---
BOOK SPECIFICATIONS
416 pages, hardcover.
ISBN 9780310326281
450 pages, paperback
ISBN 9780310331711