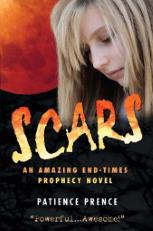 SCARS: An Amazing End-Times Prophecy Novel

Patience Prence, 2010



Cataclysmic natural disasters
Global economic chaos
Political turbulence
Mass deception
The Apocalypse has just begun....

Sixteen-year-old Rebekah Silver is your average teenager living in Southern California. She worries only about learning her cheerleading routines and passing her math test. But as world dictators rise to power and devastating disasters claim millions of lives she is inspired to search for answers. Becky soon discovers her world is quickly coming to an end, just as it was prophesied. Now she must decide whether to risk her life to follow the laws of God or surrender her soul to the law of man in this action-packed thriller. Will Becky survive?

---
TABLE OF CONTENTS
The Dream
The Day of Pentecost
The Hollywood Quake
The Visitors
Betrayed
The Death Camp
The Trial
The Execution
---
AUTHOR PROFILE
Patience Prence is a gifted writer who was fascinated by the book of Revelation as a young child. She has studied Revelation and end-time prophecies for many years. A lifelong Christian and businesswoman, she orients her research and knowledge toward helping others understand God's Word. Patience is legally blind and suffers from Usher Syndrome, a disease that causes hearing loss and blindness (Retinitis Pigmentosa).

---
BOOK SPECIFICATIONS
178 pages, paperback
ISBN 9780982633601