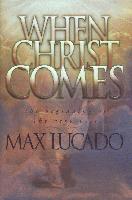 WHEN CHRIST COMES
The Beginning of the Very Best

Max Lucado, 1999



When will fears and shame vanish? When will our sufferings cease? When will graves be opened and the dead raised? Not until Jesus comes---but take heart, he will come! Join America's best-loved inspirational author for a personal, poignant narrative of Christ's return that's sure to hasten your longing for that glorious day.

Thoughts on the Second Coming are unsettling.

Life with no end?

Space with no bounds?

And what about Armageddon,
the lake of fire, the mark of the beast?

Am I supposed to feel good about all this?

If these words could be yours, you aren't alone. There is much about the end of history we don't understand. But while thoughts on the final day will stir our questions-they needn't stir our fears. Regarding that day, Jesus urged, "Don't let your hearts be troubled. Trust in God, and trust in me," (John 14:1)

Max Lucado believes the day Christ comes will be the "beginning of the very best." Our primary task is to be prepared and peaceful while we wait. In this book, you'll see how to be both.

---
TABLE OF CONTENTS
Acknowledgments

WHEN CHRIST COMES

1. "YOU DO THE TRUSTING: I'LL DO THE TAKING"
When Will He Come?
Thoughts of the Seond Coming unsettle me. Life with no end? Space with no bounds? And what about Armageddon, the lake of fire, the mark of the beast? Am I supposed to understand all this? Am I supposed to feel good about all this?

2. WAITING FORWARDLY
A Day to Anticipate
Some Christians are so obsessed with the last days that they are oblivious to these days. Others are just the opposite. They'll tell you Jesus is coming. But they live like he never will. One is to panicky, the other too patient. Isn't there a balance

3. THE CRADLE OF HOPE
A Day of Proof and Promise
I'm the cautious type. I want to believe in Jesus' promise to return, but can I? Dare I trust the words of a small-town carpenter spoken thousand years ago in a remote nation? Can I really believe in what Jesus says about his coming?

4. INTO THE WARM ARMS OF GOD
A Day of Happy Reunions
What about my loved ones who have died? Where are they now? In the time between our death and Christ's return, what happens?

5. THE BRAND-NEW YOU
A Day of Rejuvenation
What's all this talk about a new body? Do we change bodies? Is the new one different than this one? Will I recognize anyone? Will anyone recognize me?

6. A NEW WARDROBE
A Day of Redemption
There I am, at the entryway to heaven. My family enters, my friends enter, but when my turn comes, the door is closed. How can I know I won't be turned away?

7. LOOK WHO'S IN THE WINNER'S CIRCLE!
A Day of Rewards
I can understand why some will received rewards in heaven-the martyrs, the missionaries, the heros. But what about regular folks like me? Is there anything I can look forward to?

8. YOU'D DO IT ALL AGAIN
A Day of Sweet Surprises
I sometimes wonder if I have made a difference in this world. Have I? Will I ever know?

9. THE LAST DAY OF EVIL
A Day of Reckoning
And what about the devil? When Christ comes, what happens to him? How do I resist him until then?

10. ITEMIZED GRACE
A Day of Permanent Pardon
The thought of judgment day troubles me. Everything I've ever done will be revealed right? But why is that necessary? And when all my secret sins are made public, won't I be ashamed? Humiliated?

11. LOVE'S CAUTION
A Day of Ultimate Justice
My question has to do with hell. Does it exist? If so, why? Why would a loving God send people to hell?

12. SEEING JESUS
A Day of Joyful Amazement
Will everyone see Jesus? And forgive me for asking, should I want to? No sight is beautiful forever. What makes Jesus the exception?

13. CROSSING THE THRESHOLD
A Day of Everylasting Celebration
Why would Jesus come for me? Compared to others. I'm so ordinary. And I've made so many mistakes. Why would he be interested in me?

WITH AN EAR FOR THE TRUMPET

ENDNOTES

STUDY GUIDE
---
AUTHOR PROFILE
A lot of folks are kind to Max Lucado. The Oak Hills Church of Christ is king enought to let him preach each Sunday. Denalyn is kind enough to le hime come home each night. Jenna, Andrea, and Sara are kind enough to call him Dad. God is kind enough to consider him a part of the family. He wants you and God to know that he is thankful.
---
BOOK SPECIFICATIONS
207 pages, hardcover
ISBN 0849912989