Home
About Us
FAQ
Privacy Policy
Contact Us
Books
DVDs
VHS
Charts
Audio Books
General Information
Secure Order Form
Mail & Fax Orders
Shipping Rates

Mastercard
Visa, Discover
* * *
Phone Toll Free:
1-877-577-8743
within U.S.A.
* * *
International
1-336-246-2663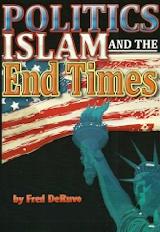 POLITICS, ISLAM AND THE END TIMES

Fred DeRuvo, 2010


$19.95
Ships within
24 hours!


As we move quickly toward the time of Christ's return, many things have to fall into place. Among them, the time must be ripe within society to not only birth a one-world government, but a ruler to rule over it. Once this ruler - the Antichrist - begins his climb to the top of the leadership heap, the Tribulation is not that far behind. Of course, societal changes must also occur in order to create favorable conditions to which the Antichrist will enter. Many of these changes are currently taking place throughout the world, guided by the politics of the United States, as well as nations across the globe. What are these political changes? How are they working to create a new world order? What to they have to do with the End Times, as it is called in the Bible? View: Premillennial, Pre-Tribulation.

---
TABLE OF CONTENTS
Foreword
Middle East Madness
Islam Will Dominate
Obama Greater Than Jesus?
Ahmadinejad Cries Foul
Anti-Semitic Rant
Ezekiel 37 Fulfilled, Says Netanyahu
Who is Adnan Oktar?
Israel Has Rights Too
Israel Squeezed Again!
Israel at the Hands of the Media
Muslim Mafia Infiltrates America
Earthquakes and the Earth's Axis
Muslim Aggression
Zionists Continue to Support Israel
Biblical Perspective on Illegal Immigration
Philip Gulley Says the Church Is Not Christian
Speaking for God
Obama and the Middle East
President Obama Anti-Semitic?
Quartet Urges Israeli Settlement Freeze
Middle East "Peace" Quartet Rebuked
Intifada in the Middle East?
Obama's Churlish Behavior
Obama Lied and Clinton Foamed
Invisible vs. Visible
Nuclear Arms, the United States, and President Obama
President Obama Born in Africa, Says Kenyan Official
Another Sign of the Times
War in the Middle East Soon?
Are Ex-Christians Really "Ex"?
Unique I.D. Number Up and Coming
James Cameron's AVATAR
Mark of the Beast?
Today's Atheist - Modern Day Pharisee
Obama, Israel, and Arabs... Oh My!
Christians: How to Get Arrested
Media: Soft on Muslims
Jesus Cartoon at Comedy Central
Arizona Boycott and the End Times
Kryon, Does He Speak the Truth?
Grave Influences
And They Say Christians are Intolerant!
Israel is Always Wrong!
Mosque at Ground Zero? Really?
Become a Christian and Die
Tortured in North Korea
Israel Stands Alone
The Feds Sue Arizona
Is Islam a Religion of Peace?
More on the Ground Zero Mosque
Betwixt and Between - Obama's Agenda
Islam Rising
Julea Ward's Upper Education
Arizona and the Courts
Islam - What Is It and Who Started It?
President Obama Chooses Islam
President Obama Has Spoken
God is Sovereign
---
AUTHOR PROFILE
Dr. Fred DeRuvo is the author of numerous articles and a growing number of books related to religious studies. Fred received his Bachelor's degree from Philadelphia College of Bible (now Philadelphia Biblical University), and his Masters from Tyndale Theological Seminary. Fred is also ordained, has his D.Div (Cambridge Theological Seminary in Cambridge, OH), and his D.Th from Northwestern Theological Seminary in Florida. Fred also enjoys the hobby of building and painting model kits and riding his Suzuki Marauder 1600cc. Fred is also involved in jail ministry as a volunteer chaplain. He endeavors to share the good news of Christís life, death and resurrection, which was the fully accepted atonement for sinful humanity, in order that we might become Godís adopted children.

---
BOOK SPECIFICATIONS
370 pages, paperback (7" X 10").
ISBN 9780982644379