Home
About Us
FAQ
Privacy Policy
Contact Us
Books
DVDs
VHS
Charts
Audio Books
General Information
Secure Order Form
Mail & Fax Orders
Shipping Rates

Mastercard
Visa, Discover
* * *
Phone Toll Free:
1-877-577-8743
within U.S.A.
* * *
International
1-336-246-2663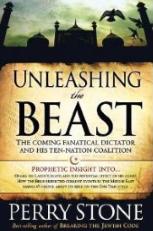 UNLEASHING THE BEAST
The Coming Fanatical Dictator and His Ten-Nation Coalition

Perry Stone, 2011



Prophetic Insight Into...
Osama Bin Laden's Death and the Potential Effect of His Clones
How the Bible Predicted Current Events in the Middle East.
America's Choice About Its Role on this End Time Stage.

What in the World Is Going On?
There is an unsettling mood hanging like storm clouds over North America. Why is there so much upheaval on so many levels? Where is America moving, and where is the world heading? Who will emerge from among the sea of nations as the survivor and the leader? In times of uncertainty, you want to know that things are under control and happening as planned. In Unleashing the Beast, Perry Stone demonstrates how biblical prophecies are playing out on the world stage today. In this informative and prophetically stirring book, you will discoverů
That biblical prophecies and Islamic traditions both point to the rise of a coming kingdom and a global dictator who will seize the world.
The role that current global concerns have in setting the stage for these End Time events to unfold.
Details concerning what is coming in the future.
---
TABLE OF CONTENTS
Introduction
The Evidence Is In-We Are in the Time of the End
Seven Down and One More to Go
The Man Who Would Be the Beast
Two Feet, Ten Toes, and a Little Horn With a Big Mouth
Islam 101--What You Should Know
Islam and the Last Days
A Crescent Revolution Rises Over the Middle East
The Osama Factor and America
The Bible and the Quran--Islamic and Christian Prophecies
Iraq--the Future Headquarters of the Coming Antichrist
The Mark of the Beast and the Islamic Link
Fanatical Islam's Plan to Control the World
The (Islamic) Sun Will Rise in the West
The Oil Beast Rising Out of the Sea
The Controversial Dome of the Rock
Appendix: The Seven-Phase Manifesto of the Antichrist
Notes

---
AUTHOR PROFILE
Perry Stone is the best-selling author of numberous books, including The Meal That Heals, Breaking the Jewish Code and How to Interpret Dreams and Visions. He directs one of America's fastest-growing ministries, The Voice of Evangelism. An international evangelist, Perry holds a BA in theology from Covenant Life Christian College. He lives in Cleveland, Tennessee, with his wife, Pam, and their two children.

---
BOOK SPECIFICATIONS
274 pages, paperback, appendix.
ISBN 9781616386221