Home
About Us
FAQ
Privacy Policy
Contact Us
Books
DVDs
VHS
Charts
Audio Books
General Information
Secure Order Form
Mail & Fax Orders
Shipping Rates

Mastercard
Visa, Discover
* * *
Phone Toll Free:
1-877-577-8743
within U.S.A.
* * *
International
1-336-246-2663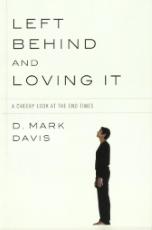 LEFT BEHIND AND LOVING IT
A Cheeky Look at the End Times

D. Mark Davis, 2011



Left Behind and Loving It is a cheeky critique of popular writings about the end times. Rather than presenting a steroid-buffed Jesus wrapped in an American flag and "coming again in clouds of gunfire," Left Behind and Loving It invites readers to approach some of the most controversial and scary portions of the Scriptures with the utter confidence that "God's steadfast love endures forever." Rather than asserting a hope premised on a few chosen ones escaping the world, Left Behind and Loving It argues that if it is Jesus who is to return (and not his evil twin), then the second coming has redemption written all over it. Many today cannot accept the escapist, violent, end-of-the-world scenario envisioned by "Left Behind" theology. Left Behind and Loving It invites readers not to fear but to trust in God's steadfast love and look at the finitude of the world with hope in an infinitely loving God.

---
TABLE OF CONTENTS
Preface
Acknowledgments
Introduction:
Left Behind and Hating It
Ascension Deficit Disorder:
The Art of Reading Poetically
Artificial Intimidation:
This Rapture Brought to You by Anxiety, Inc.
Left Behind Theology and Homotextuality:
The Struggle against Textual Perversion
Pulpit Fiction:
Living through the Great Fibulation
Victorious Secret:
A Biblical View of Naked People
I'll Be Back:
The Return of Jesus' Evil Twin
Conclusion:
Left Behind and Loving It
Bibliography

---
AUTHOR PROFILE
D. Mark Davis is the pastor of Heartland Presbyterian Church in Clive, Iowa. He is the author of Talking About Evangelism (2007).

---
BOOK SPECIFICATIONS
118 pages, paperback, bibliography.
ISBN: 9781608998265