Home
About Us
FAQ
Privacy Policy
Contact Us
Books
DVDs
VHS
Charts
Audio Books
General Information
Secure Order Form
Mail & Fax Orders
Shipping Rates

Mastercard
Visa, Discover
* * *
Phone Toll Free:
1-877-577-8743
within U.S.A.
* * *
International
1-336-246-2663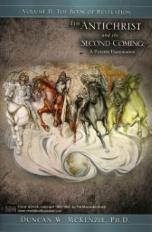 THE ANTICHRIST AND THE SECOND COMING: A Preterist Examination
Volume II: The Book of Revelation

Duncan W. McKenzie, Ph.D., 2012



What if the commonly held beliefs concerning the Antichrist are mistaken? The Antichrist and the Second Coming looks at the Antichrist and the Second Advent of Christ from a preterist (i.e., past fulfillment) perspective and provides a unified interpretation of the little horn, the prince to come, the king of the North, the man of lawlessness, and the beast. This is the second in a two volume set on the Antichrist; it focuses on the book of Revelation. This edition stands on its own and is recommended reading even if you have not read the first volume -- The Antichrist and the Second Coming: A Preterist Examination: Volume 1: Daniel and 2 Thessalonians. McKenzie shows how the Antichrist was ultimately a spiritual ruler from the abyss (Rev. 11:7) that worked through Titus in his three-and-a-half-year destruction of the Jewish nation (AD 67-70; cf. Dan. 9:26). This spirit of Antichrist was about to come out of the abyss in the first century (Rev. 17:8 NASB) and was destroyed by the Second Advent of Jesus in AD 70 (a spiritual event). Continue reading to see how McKenzie convincingly makes the biblical case for this fascinating and controversial position, and what it means for us today. View: Preterist.

---
TABLE OF CONTENTS
Introduction to Volume II
The Date of Revelation
The Subject of Revelation
How to Interpret Revelation
The Beast from the Sea (Revelation 13:1-10)
The Land Beast/False Prophet (Revelation 13:11-18)
The Beast and the Harlot (Revelation 17)
The Beast and the Destruction of Babylon (Revelation 18)
The Marriage of the Lamb and Destruction of the Beast at the Second Coming (Revelation 19)
The Millennium I: Preliminary Considerations
The Millennium II (Revelation 20)
The New Heaven and New Earth (Revelation 21-22)
Israel and the Gog and Magog Invasion
Where Are We Now?
Endnotes

---
AUTHOR PROFILE
Dr. Duncan McKenzie is a licensed psychologist (Ph.D. in psychology) who lives in Los Angeles, California. He has been studying Bible prophecy for the past twenty-five years and has been researching and writing this two volume set for the last twelve years.

---
BOOK SPECIFICATIONS
640 pages, paperback.
ISBN: 9781619965799