Home
About Us
FAQ
Privacy Policy
Contact Us
Books
DVDs
VHS
Charts
Audio Books
General Information
Secure Order Form
Mail & Fax Orders
Shipping Rates

Mastercard
Visa, Discover
* * *
Phone Toll Free:
1-877-577-8743
within U.S.A.
* * *
International
1-336-246-2663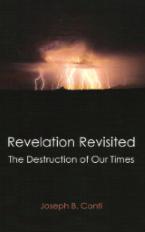 REVELATION REVISITED
The Destruction of Our Times

Joseph B. Conti, 2011



Who is the Antichrist? No one can know, the experts say. Yet Revelation Revisited: The Destruction of Our Times examines the clues the experts have missed. In this fast-paced fusion of Old and New Testaments, author Joe Conti explains, in convincing fashion:
Why the Antichrist can only be one of six men
Why the locusts are his anti-saints from hell
Why Muslims and Catholics must be reconciled
Why the mark of the beast cannot be a barcode
Ten original graphics are included in this gripping account of the apostasy of our times.

---
TABLE OF CONTENTS
Introduction
The Church of St. John the Divine
All Wail
The Magnificent Seven
Prophet for Hire
The Eyes Have It
The Lion Has Prevailed
The Black Death
John's Book of Martyrs
No Fear
The Lamb is My Shepherd
Silence is Golden
Krakatoa's Child
Wormwood
Monsters of the Deep
The Power of Four
Time of Trouble
Sons of Oil
Mercy Over Moses
Queen of Heaven
Infallible Sovereign
Earth Angel
Last Year of Confusion
Ten-Horn Dictator
Chi Xi Stigma
Tongues of Fire
Sea of Tranquility
Red Tide
We Three Spirits
World Mart
Hour of Power
God Only Knows
Day of Decision
Beheaded
Highway of Hope
Luster's Last Stand
From Sea to Burning Sea
The Pearl of Great Price
Fons Jeventutis
Epilog

---
AUTHOR PROFILE
Joe Conti is a master analyst and Bible teacher. A student as well, he has spent 20,000 hours in the study of the Scriptures. Joe was born in Providence, R.I. and raised on the island of Bermuda. He was saved in 1977 while reading The Liberation of Planet Earth. During a 20-year stay in Connecticut, Joe was a member of a Regular Baptist church, where he served as a deacon and teacher. Single, he lives in Hudson, Florida.

---
BOOK SPECIFICATIONS
120 pages, paperback, illustrated.
ISBN 9781461070504