Home
About Us
FAQ
Privacy Policy
Contact Us
Books
DVDs
VHS
Charts
Audio Books
General Information
Secure Order Form
Mail & Fax Orders
Shipping Rates

Mastercard
Visa, Discover
* * *
Phone Toll Free:
1-877-577-8743
within U.S.A.
* * *
International
1-336-246-2663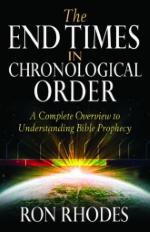 THE END TIMES IN CHRONOLOGICAL ORDER
A Complete Overview to Understanding Bible Prophecy

Ron Rhodes, 2012



Bible prophecy expert Ron Rhodes offers an easy-to-understand yet detailed chronology and explanation of end-times events. The chapters are arranged around the major end-times themes: the rapture, the tribulation, the millennial kingdom, and the eternal state. Each chapter begins with a list of the specific events it covers, making this an extremely user-friendly chronological guide to end-times biblical prophecy. Rhodes allows for various interpretations among Christians. Yet the sequence he describes is faithful to the biblical text, based on a literal approach to prophecy, and held by many Bible scholars. As readers discover that they really can understand Bible prophecy, they will come to love and trust the Scriptures like never before.

---
TABLE OF CONTENTS
Preface
Introduction to Biblical Prophecy
Prior to the Tribulation
The Rapture
The Results of the Rapture
The Church with Christ in Heaven
The Invasion of Israel
The Beginning of the Tribulation: The Emergence of the Antichrist
The Beginning of the Tribulation: The Temple and Signs of the End
The First Half of the Tribulation: The Lamb and His Witnesses
The First Half of the Tribulation: Judgments, Martyrdom, and Apostasy
The Midpoint of the Tribulation
The Second Half of the Tribulation
The End of the Tribulation
After the Tribulation, Before the Millennial Kingdom
During the Millennial Kingdom
After the Millennial Kingdom
The Eternal State
Bibliography
Notes

---
AUTHOR PROFILE
Ron Rhodes, president of Reasoning from the Scriptures Ministries, is heard regularly on nationwide radio and is the author of The Coming Oil Storm and The Topical Handbook of Bible Prophecy. He holds ThM and ThD degrees from Dallas Theological Seminary and teaches there and at several other seminaries.

---
BOOK SPECIFICATIONS
240 pages, paperback, bibliography.
ISBN 9780736937788