Home
About Us
FAQ
Privacy Policy
Contact Us
Books
DVDs
VHS
Charts
Audio Books
General Information
Secure Order Form
Mail & Fax Orders
Shipping Rates

Mastercard
Visa, Discover
* * *
Phone Toll Free:
1-877-577-8743
within U.S.A.
* * *
International
1-336-246-2663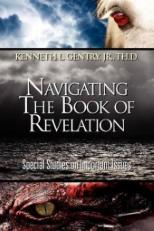 NAVIGATING THE BOOK OF REVELATION
Special Studies on Important Issues

Kenneth L. Gentry, Jr., TH.D., 2011



In this work, Dr. Kenneth L. Gentry, Jr., author of Before Jerusalem Fell: Dating the Book of Revelation, highlights some of the important issues for understanding Revelation. In an earlier book, The Book of Revelation Made Easy, he explained the fundamental issues necessary for grasping the main drift of Revelation. In this follo-up work, he builds on those principles in order to assist the reader in Navigating the Book of Revelation. The author is currently working on a multi-volume commentary on Revelation from the perspective of redemptive-historical preterism. The chapters contained within are summaries of several side-studies that will appear in his commentary. They should help the prophecy enthusiast navigate the mine field that we know as "The Revelation of Jesus Christ" (Rev. 1:1).

---
TABLE OF CONTENTS
Abbreviations
Preface
PART 1: GENERAL INTRODUCTION TO PRETERISM
A.D. 70 and Redemptive History
The Date of Revelation
Interpretive Approaches to Revelation

PART 2: SPECIAL ISSUES IN REVELATION

The Sealed Scroll as a Divorce Certificate
The Jewish Persecution of Christianity
The "Cast Out" Temple
The Jewish Temple as Idol
Hebrew Riddles, 666, and Asian Christians
The Land Beast and the High Priestly Aristocracy
The Jewish Temple and the Beast's Throne
Jerusalem and the Babylonian Harlot
The Harlot's Dress and Jerusalem's Decor
Nero and the Beast that "Was"
The Martyr's Millennium
New Creation and New Covenant
APPENDIX
Anti-Semitism and Preterism
INDEXES
Subject Index
Select Scripture Index
---
AUTHOR PROFILE
Kenneth L. Gentry, Jr., Th.D. is the Director of GoodBirth Ministries, which was established in order to expound, apply, advance, and defend conservative, evangelical Reformed theology in the modern world. He is also the Director of NiceneCouncil.com, as well as pastor of Living Hope Fellowship in Greer, South Carolina. He has published several books on biblical eschatology.

---
BOOK SPECIFICATIONS
212 pages, paperback, appendix, subject index, Scripture index.
ISBN 9780984322039