Home
About Us
FAQ
Privacy Policy
Contact Us
Books
DVDs
VHS
Charts
Audio Books
General Information
Secure Order Form
Mail & Fax Orders
Shipping Rates

Mastercard
Visa, Discover
* * *
Phone Toll Free:
1-877-577-8743
within U.S.A.
* * *
International
1-336-246-2663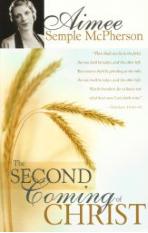 THE SECOND COMING OF CHRIST

Aimee Semple McPherson, 1920, 2014


$11.95
Ships within
24 hours!


The Lord will come again; He promised us that. But is His church ready? We know neither the hour nor the day of Christ's return, but we are instructed to be ready at all times. Amy Semple McPherson felt the urgency of this call, and she challenges the church to be ready for His glorious return.Join "Sister Aimee," whom Time magazine named one of the most influential people of the twentieth century, in discovering what the second coming of Christ means to the church today. In this book, she answers questions that face many believers...
Is Christ coming?
How is He coming?
When is He coming?
For whom is He coming?
The harvest is ready, and the Lord will come back to reap a bountiful, mature body of believers. Allow this book to prepare you to rise up and meet Christ when He appears in the clouds of glory!

---
TABLE OF CONTENTS
Preface
Is He Coming?
How Is He Coming?
When Is He Coming?
The Jewish Question and How to Solve It
For Whom Is He Coming?
My Wonderful Vision
---
AUTHOR PROFILE
Aimee Semple McPherson (1890–1944) was a woman ahead of her time. She crossed the United States with two young children in an era when women were not permitted to vote. She established an evangelistic ministry and built a large evangelistic center at a time when women were expected to marry, have children, and leave religion and other "important" pursuits to men. But God had a plan for her life that did not take into account human ways of doing things. As an evangelist who preached the gospel not only across the United States but also around the world, "Sister Aimee" incorporated the cutting-edge communications media of her day, becoming a pioneer in broadcasting the gospel on the radio.
Upon opening the doors of Angelus Temple in Los Angeles in 1923, Sister Aimee developed an extensive social ministry, feeding more than 1.5 million people during the Great Depression. She summarized her message into four major points, which she called "the Foursquare Gospel": Jesus is the Savior; Jesus is the Healer; Jesus is the Baptizer, with the Holy Spirit; and Jesus is the soon-coming King. She founded the International Church of the Foursquare Gospel, also known as The Foursquare Church, which continues to spread the Foursquare Gospel throughout the world to this day. Recently, Time magazine named her as one of the most influential people of the twentieth century.

---
BOOK SPECIFICATIONS
88 pages, paperback.
ISBN 9781629110165