Home
About Us
FAQ
Privacy Policy
Contact Us
Books
DVDs
VHS
Charts
Audio Books
General Information
Secure Order Form
Mail & Fax Orders
Shipping Rates

Mastercard
Visa, Discover
* * *
Phone Toll Free:
1-877-577-8743
within U.S.A.
* * *
International
1-336-246-2663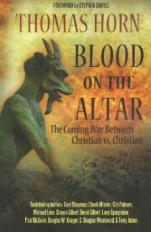 BLOOD ON THE ALTAR
The Coming War Between Christian vs. Christian

Thomas Horn, 2014


$19.95
Ships within
24 hours!


As the world races toward its momentous end times encounter between good and evil (known in the Bible as Armageddon), a deepening antagonism is developing worldwide against conservative Christians. According to a 2014 Pew Research Center report, this hostility now includes the United States, which elevated from the lowest category of government restrictions on Christian expressions as of mid-2009 to an advanced category in only the last three years. This trend may point to one of the most overlooked aspects of Bible prophecy--a war that ultimately pits born-again believers against Religious Christians. Contributing Authors: Gary Stearman, Chuck Missler, Cris Putnam, Michael Lake, Sharon Gilbert, Derek Gilbert, Larry Spargimino, Pau McGuire, Douglas W. Krieger, S. Douglas Woodward & Terry James.

---
TABLE OF CONTENTS
Foreword by Stephen Quayle
Forgotten Aspect of Bible Prophecy: The Lucifer Effect and the Coming War between Christian vs. Christian by Thomas Horn
The Good and the Bad of What's Coming by Chuck Missler
By the Typing of Our Thumbs, Something Wicked This Way Comes by Sharon K. Gilbert
A New Theory: On the Image of the Beast and the New Conscience by Michael K. Lake
A Rampant and Growing Madness by Gary Stearman
War of the Apostates by Larry Spargimino
The Evangelical Church, Apostasy, and Change Agents: The Destiny of America in the Last Days by Paul McGuire
Dominionism's Political Divide by Derek Gilbert
A Divided House: Mainline Liberal vs. Evangelical Conservative by Cris D. Putnam
When Antichrist Reveals Himself in America, Will We Recognize Him? by Douglas W. Krieger and S. Douglas Woodward
The Final Victory by Terry James
Notes

---
AUTHOR PROFILE
Thomas Horn is an internationally recognized lecturer, radio host and best selling author of several books including Forbidden Gates, Apollyon Rising 2012 and Zenith 2016.

---
BOOK SPECIFICATIONS
301 pages, paperback.
ISBN 9780985604578