Home
About Us
FAQ
Privacy Policy
Contact Us
Books
DVDs
VHS
Charts
Audio Books
General Information
Secure Order Form
Mail & Fax Orders
Shipping Rates

Mastercard
Visa, Discover
* * *
Phone Toll Free:
1-877-577-8743
within U.S.A.
* * *
International
1-336-246-2663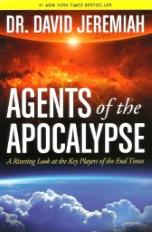 AGENTS OF THE APOCALYPSE
A Riveting Look at the Key Players of the End Times

Dr. David Jeremiah, 2014


$14.95
Retail $15.99
Paperback
Ships within
24 hours!


---
$22.95
Retail $24.99
Hardcover
Ships within
24 hours!


Are we living in the end times? What if the players depicted in the book of Revelation were out in force today? And if they were, would you know how to recognize them? In Agents of the Apocalypse, noted prophecy expert Dr. David Jeremiah does what no Bible teacher has done before. He explores the book of Revelation through the lens of its major players: the exile, the martyrs, the 144,000, the two witnesses, the dragon, the beast from the earth, the beast from the sea, the Victor, the King, and the Judge.
Skillfully crafted to engage both the heart and the mind, each chapter opens with an engaging, biblically based dramatization that brings prophecies to life as never before. As Dr. Jeremiah presents these agents in the context of their unique times and places in the end times, he weaves a rich tapestry of the temperaments, motives, and conspiracies that Scripture tells us will precipitate earth's final days. Then, in each chapter, Dr. Jeremiah provides a detailed study called "The Scripture behind the Story", which explores some of Revelation's most cryptic passages, explaining how to interpret them and--most important--how they apply to the malevolent forces at play in the world today.
Also available in Unabridged Audio CD.

---
TABLE OF CONTENTS
Introduction
The Exile
The Martyrs
The 144,000
The Two Witnesses
The Dragon
The Beast from the Sea
The Beast from the Earth
The Victor
The King
The Judge
Epilogue: The Overcomers
Acknowledgments
Notes
About the Author

---
AUTHOR PROFILE
Dr. David Jeremiah serves as senior pastor of Shadow Mountain Community Church in El Cajon, California. He is the founder and host of Turning Point, a ministry committed to providing Christians with sound Bible teaching relevant to today's changing times through radio and television, the Internet, live events, and resource materials and books. A bestselling author, Dr. Jeremiah has written more than forty books, including Captured by Grace, Living with Confidence in a Chaotic World, What in the World Is Going On?, The Coming Economic Armageddon, God Loves You: He Always Has—He Always Will, and What Are You Afraid Of?.
Dr. Jeremiah's commitment to teaching the complete Word of God continues to make him a sought-after speaker and writer. His passion for reaching the lost and encouraging believers in their faith is demonstrated through his faithful communication of biblical truths.
A dedicated family man, Dr. Jeremiah and his wife, Donna, have four grown children and eleven grandchildren.

---
BOOK SPECIFICATIONS
283 pages.
Hardcover ISBN: 9781414380490
Paperback ISBN: 9781414380506