Home
About Us
FAQ
Privacy Policy
Contact Us
Books
DVDs
VHS
Charts
Audio Books
General Information
Secure Order Form
Mail & Fax Orders
Shipping Rates

Mastercard
Visa, Discover
* * *
Phone Toll Free:
1-877-577-8743
within U.S.A.
* * *
International
1-336-246-2663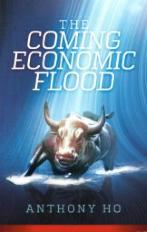 THE COMING ECONOMIC FLOOD

Anthony Ho, 2014


$7.95
Ships within
24 hours!


Are we living again in the days of noah--when another flood will suddenly burst upon the world with terrifying devastation? Anthony Ho believes so. This time, however, the flood will be economic. God is soon going to judge the global economies, writes Pastor Ho, and the results will be, as in Noah's day, swift and catastrophic. An engineer and scientist, Pastor Ho uses a reasoned approach--describing person visions from God that he corroborates with scientific data and Bible prophecy--to show why the collapse is imminent. He will tell you how to prepare spiritually for the flood, much like Noah did by building an ark. And he will show you ways that we, as Christians living amid the crisis, can point people to their only hope: Jesus.

---
TABLE OF CONTENTS
Preface
The First Vision
The Beginning of the Birth Pains
The Second Vision
The Manifesto of Christ
The Global Financial System Collapse
The Insight
The Preparation
Notes
About the Author

---
AUTHOR PROFILE
Anthony Ho is a pastor with Alfa Omega Ministry Indonesia in Singapore. To answer the Lord's call into ministry, he resigned his post as president of several Asian subsidiaries of a NASDAQ-listed U.S. corporation. Born and raised in Singapore, he graduated from National University of Singapore with honors in engineering.

---
BOOK SPECIFICATIONS
51 pages, hardcover.
ISBN: 9781621367895