Home
About Us
FAQ
Privacy Policy
Contact Us
Books
DVDs
VHS
Charts
Audio Books
General Information
Secure Order Form
Mail & Fax Orders
Shipping Rates

Mastercard
Visa, Discover
* * *
Phone Toll Free:
1-877-577-8743
within U.S.A.
* * *
International
1-336-246-2663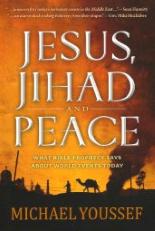 JESUS, JIHAD AND PEACE
What Bible Prophecy Says About World Events Today

Michael Youssef, 2015


$14.95
Retail $15.99
Ships within
24 hours!


Judaism, Christianity, and Islam all feature parallel accounts of the 'end times,' and all three accounts feature a messianic Savior, an apocalyptic final war between good and evil, and a central role for the city of Jerusalem; do these three 'end times' scenarios intersect in some way? In a world that cries out for peace, which will prevail—Jesus or jihad?
We live in a world changed forever by 9/11—a world still very dangerous, where Westerners in general, and Christians in particular, remain targets of terrorism. People are wondering: What next's? Is there any hope for peace in the world? Or is terror our destiny? Bible-believing Christians have even more questions: What does the threat of Islamic extremism mean in terms of Bible prophecy? What do today's turbulent events in Israel, Palestine, Egypt, Syria, Iran, Iraq, and Russia mean in prophetic terms? Dr. Youssef provides answers that are concise, biblically accurate, and targeted on the challenges that confront us in a world that is increasingly fraught with peril. We must seek to understand who is attacking us, how these trends fit into the flow of prophetic history, and how we should respond.

---
TABLE OF CONTENTS
Author's Preface
Introduction: A Wake-Up Call

The Goal of World Domination
Ignored Warnings
The Prophet and the Koran
Are Allah and Jehovah the Same God?
What Does Islam Teach About the End Times?
Two Different Prescriptions for Life
What Is Jihad?
The Global Caliphate
All Roads Lead to Israel
The Spreading Wildfire
A Spiritual Battle
God's Peace Treaty
Notes

---
AUTHOR PROFILE
Michael Youssef, Ph.D., is the founder and president of Leading The Way with Dr. Michael Youssef, a worldwide ministry that leads the way for people living in spiritual darkness to discover the light of Christ through the creative use of media and on-the-ground ministry teams. His weekly television programs and daily radio programs are broadcast more than 4,300 times per week in 24 languages to more than 190 countries. He is also the founding pastor of The Church of The Apostles in Atlanta, Georgia.

---
BOOK SPECIFICATIONS
239 pages, paperback.
ISBN 9781617953682