Home
About Us
FAQ
Privacy Policy
Contact Us
Books
DVDs
VHS
Charts
Audio Books
General Information
Secure Order Form
Mail & Fax Orders
Shipping Rates

Mastercard
Visa, Discover
* * *
Phone Toll Free:
1-877-577-8743
within U.S.A.
* * *
International
1-336-246-2663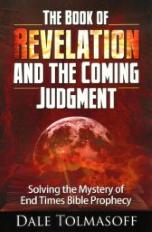 THE BOOK OF REVELATION AND THE COMING JUDGMENT
Solving the Mystery of End Times Bible Prophecy

Dale Tolmasoff, 2014


$16.95
Ships within
24 hours!


Do You Wish You Could Understand End Times Bible Prophecy? At last you can read the Book of Revelation and actually understand it! Are you confused by the Book of Revelation? You're not alone. Understanding the strange images of dragons, monsters, angels, and cosmic war has been a mystery for nearly 2,000 years. The Bible's description of the End Times has long stirred up fascination and excitement. But Revelation is not as easy as some prophecy charts make it seem. In The Book of Revelation and the Coming Judgment: Solving the Mystery of End Times Bible Prophecy, Dale Tolmasoff takes a fresh approach to understanding the book by bringing together insights from different camps to make the book understandable at last.
In The Book of Revelation and the Coming Judgment you will learn:
How to interpret the Book of Revelation?
Who is the Antichrist?
What is the meaning of 666?
When is the Great Tribulation?
What will happen at the Second Coming?
Where will Armageddon take place?
Which view of the Millennium is correct?
What does the Bible teach about a future Temple?
---
TABLE OF CONTENTS
Interpreting End Times Bible Prophecy
The Coming Judgment of God's Enemies
The Great Tribulation
The Seven Seals
The Seven Trumpets
The Suffering Church
The Two Beasts
The Seven Bowls
The Harlot and the Beast
The Second Coming
The New Creation
Bibliography

---
AUTHOR PROFILES
Dale Tolmasoff earned his B.A. from Wheaton College, majoring in Bible and Theology, and his M.Div. from Gordon-Conwell Theological Seminary. He also received pastoral training at Bethlehem College & Seminary, formerly known as the Bethlehem Institute, with John Piper. Dale is a former Jehovah's Witness, who served for many years as an elder, evangelist, missionary in the Philippines, and staff member in their New York headquarters. He currently lives in Texas.

---
BOOK SPECIFICATIONS
161 pages, paperback.
ISBN 9781502819529