Home
About Us
FAQ
Privacy Policy
Contact Us
Books
DVDs
VHS
Charts
Audio Books
General Information
Secure Order Form
Mail & Fax Orders
Shipping Rates

Mastercard
Visa, Discover
* * *
Phone Toll Free:
1-877-577-8743
within U.S.A.
* * *
International
1-336-246-2663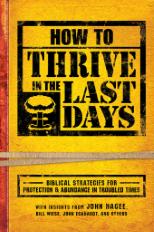 HOW TO THRIVE IN THE LAST DAYS
Biblical Strategies for Protection & Abundance in Trouble Times

Frontline Editors, 2015


$14.95
Ships within
24 hours!


Stand on God's promises and fearlessly approach your future.
Believers need to arrest their fears of the future, harness the supernatural strategies of God, and learn how to feast in times of famine. End-time believers have access to every promise and provision made available in the Abrahamic covenant, and God once prophesied to Israel that they would prosper—even in Babylon. Believers can claim that promise for today. This book combines the prescriptions for success in the end-times from:
Recession-Proof Living by Bill Wiese
Breaking the Spirit of Poverty by Ed Montgomery
Prayers and Declarations for Provision and Blessings by John Eckhardt
With special commentary from Jim Bakker and John Hagee
---
TABLE OF CONTENTS
Introduction: Avoiding Fear
Financial Fallacies That Rule the World
Bracing for the Big Chill
Weathering the Financial Storm
Growing Your Way to Prosperity
Develop a Formula for Success
Expect Miracles
Activate the Blessings of God
Harnessing the Wisdom of God
The Reality of Poverty in Our World
Financial Freedom and the Basic Laws of Money
The Land Mine of Failing to Plan
Understanding Wealth
Breaking the Spirit of Poverty
Prayers and Declarations for Provision, Blessing, Protection, and Favor
Notes

---
AUTHOR PROFILE
FRONTLINE specializes in books for Christians who are politically minded and socially active. It is the leading publisher of timely resources from a Christian worldview such as the New York Times best sellers The Harbinger and The Mystery of the Shemitah.

---
BOOK SPECIFICATIONS
244 pages, paperback.
ISBN: 9781629982069