Home
About Us
FAQ
Privacy Policy
Contact Us
Books
DVDs
VHS
Charts
Audio Books
General Information
Secure Order Form
Mail & Fax Orders
Shipping Rates

Mastercard
Visa, Discover
* * *
Phone Toll Free:
1-877-577-8743
within U.S.A.
* * *
International
1-336-246-2663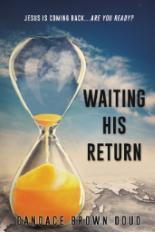 WAITING HIS RETURN
Jesus Is Coming Back... Are You Ready?

Candace Brown Doud, 2015


$17.95
Retail $18.95
Ships within
24 hours!


Is Jesus' life on earth two thousand years ago relevant to the problems we face in our world today, a world threatened with terrorism, wars, disasters, and epidemics? The Bible says yes! Amidst the relentless "Breaking News" flashing across our screens depicting our doom and gloom stands the timeless truth that Jesus Christ is returning to earth to make things right, to rule the world with justice and peace. Israel is the nation and Jerusalem is the city that sets the stage for this culminating event in human history. Join the author to revisit those places and learn from Jesus Himself the amazing future that is waiting for us when we put our trust in Him.

---
TABLE OF CONTENTS
Dear Reader
Introduction - The Problem and the Promise
PART I: JESUS INTERRUPTS HISTORY

Jesus the Messiah - Returning as Promised
Born in a Manger - Returning as King
Presented at the Temple - Returning to Be Worshipped
Baptized in the River Jordan - Returning for His Own
Tempted in the Wilderness - Returning as Final Victor
Preaching in Galilee - Returning to Establish His Kingdom on Earth

PART II: JESUS COMPLETES HIS WORK

Condemned in Jerusalem - Returning as Judge
Last Supper in the Upper Room - Returning to Fulfill Prophecy
Agony in the Garden - Returning in Glory
Dying on the Cross - Returning as Proven Redeemer

PART III: JESUS CHANGES OUR FUTURE

Missing at the Tomb - Returning as Life over Death
Waiting at the Eastern Gate - Returning to Reign as King of Kings and Lord of Lords
Dear Reader
Acknowledgements

---
AUTHOR PROFILE
Candace Brown Doud was born in Coronado, California, and grew up in Los Angeles. She attended Marymount High School and UCLA. She studied the Bible in Bible Study Fellowship where she served in leadership for over twenty years and then as a Teaching Leader for eighteen years. She and her husband, Jim, have four children and ten grandchildren and live in Bellevue, Washington.

---
BOOK SPECIFICATIONS
186 pages, paperback.
ISBN 9781498435499