Home
About Us
FAQ
Privacy Policy
Contact Us
Books
DVDs
VHS
Charts
Audio Books
General Information
Secure Order Form
Mail & Fax Orders
Shipping Rates

Mastercard
Visa, Discover
* * *
Phone Toll Free:
1-877-577-8743
within U.S.A.
* * *
International
1-336-246-2663
EVERY PROPHECY ABOUT JESUS

John F. Walvoord, 2016


$14.95
Retail $16.99
Ships within
24 hours!


Considered by many to be the world's foremost authority on biblical prophecy, Dr. John F. Walvoord devoted much of his time and scholarship to interpreting the Bible's predictions about Jesus. From Jesus's birth, to His death and resurrection, to His return to earth, every prophecy about Christ in the Bible is relevant to us today. Now for the first time, these prophecies and interpretations are available by themselves in one book. This ultimate guide to messianic prophecy explores:
The historical background for every prophecy about Christ throughout the Bible
How and when Christ will return to earth
What today's events in the Middle East have to do with Jesus's life and purpose
How all the prophecies about Jesus influence and confirm one another
Why we can interpret biblical prophecies literally and why they matter to us today
Understanding biblical predictions about Christ is crucial to the church, our awareness of world events, and our personal faith in a God who keeps His promises. 207 pages, paperback.
More Information, Table of Contents, Author Profile
More Books by John F. Walvoord
---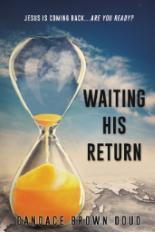 WAITING HIS RETURN
Jesus Is Coming Back... Are You Ready?

Candace Brown Doud, 2015


$17.95
Retail $18.95
Ships within
24 hours!


Is Jesus' life on earth two thousand years ago relevant to the problems we face in our world today, a world threatened with terrorism, wars, disasters, and epidemics? The Bible says yes! Amidst the relentless "Breaking News" flashing across our screens depicting our doom and gloom stands the timeless truth that Jesus Christ is returning to earth to make things right, to rule the world with justice and peace. Israel is the nation and Jerusalem is the city that sets the stage for this culminating event in human history. Join the author to revisit those places and learn from Jesus Himself the amazing future that is waiting for us when we put our trust in Him. 186 pages, paperback.
More Information, Table of Contents, Author Profile
More Books on Jesus and Paul
---
THE END OF THE WORLD
And What Jesus Has to Say About It

Michele Neal, 2014


$14.95
Retail $15.99
Ships within
24 hours!


In her new book about the end times, author Michele Neal highlights many of these prophesied events, and addresses the serious reality that the destiny of half-hearted Christians is in jeopardy. Sound asleep, spiritually, they are neither watching for the Bridegroom nor making themselves ready for His return and risk being caught unprepared. She also reveals from God's Word the devastating eternal destiny of all who refuse to believe in Jesus, but offers to them the "way of escape." Let Michele show you what you must do to wake up from this slumber. Don't gamble with the consequences of sin. The End of the World: And What Jesus Has to Say About It will help you now to get ready for the future! Time may be short--the Bridegroom will return... Are you ready? 234 pages, paperback, bibliography, appendix.
More Information, Table of Contents, Author Profile
---
WHAT JESUS REALLY SAID ABOUT THE END OF THE WORLD

David B. Currie, 2012


$14.95
Ships within
24 hours!


From the Mayans to Martin Luther to modern doomsday preachers, there s a long list of people who predicted the end of the age and got it wrong. Does Jesus belong on that list? After all, in the Gospel of Matthew he seems to indicate the end will come within a generation, yet many generations have now passed and the world is still around. Was he mistaken, then, and was the early Church fooled by his mistake into expecting the Second Coming in the first century? In What Jesus Really Said About the End of the World, author David Currie author of Born Fundamentalist, Born Again Catholic examines Christ s end-times prophecies in an attempt to get to the bottom of this profoundly important question. Using the tools of biblical scholarship, the wisdom of the Church Fathers, plus Old Testament history and typology, he presents a fascinating and highly readable interpretation of Jesus words echoed by St. Paul and other early Christians that harmonizes with Catholic tradition and resoundingly answers the charge that Christ predicted an end that never came. 231 pages, paperback, appendix, bibliography.
More Information, Table of Contents, Author Profile
---
ORACLES FROM OLIVET
The Eschatological Jesus

Bernie L. Calaway, 2008


$32.95
Ships within
24 hours!


Finding material concerning any end-of-the-world-tinged subject is easy. But what information is reliable? Which theories are faith-based and biblically sound? Does everything have to be complex, scary, or sensational? To harvest the best answers, doubtless we should look to the best source. There is none better, of course, than Jesus Christ himself. His discourse from Mt. Olivet, near Jerusalem, was the final and most detailed revelation given during his earthly ministry. As a fortunate bonus, the book you are holding will help clarify the intricacies of the end-time message for today's generation. Oracles from Olivet could easily become your primer for futuristic thinking. Every page offers reasoning that is clear, concise, and, yes, even entertaining. Paraphrases tame the tough theological words and illustrative fables flavor the text. You won't be disappointed—you'll be thrilled. 164 pages, paper, bibliography, index.
More Information, Table of Contents, Author Profile
---
WHAT JESUS SAYS ABOUT EARTH'S FINAL DAYS

Mark Hitchcock, 2003


$7.95
Ships within
24 hours!


Nothing takes God by surprise. He's in total control. And on the Mount of Olives two days before He died, Jesus gave His closest followers a clear forecast of what was coming. Join Mark Hitchcock and listen to the Master's voice concerning earth's finals days. 125 pages, paper.
More Information, Table of Contents, Author Profile
More Books by Mark Hitchcock
---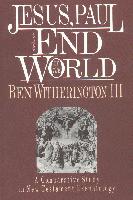 JESUS, PAUL AND THE END OF THE WORLD: A Comparative Study in New Testament Eschatology
Ben Witherington III, 1992.


$19.95
Ships within
24 hours!


Did Jesus--and later Paul--believe that the apocalyptic kingdom of God was about to appear, bringing an end to this world? Witherington takes a hard look at the Gospel texts and makes a thorough and critical assessment of Paul's eschatology. For each topic examined--the language of imminence, the dominion of God, the community of Christ, the Israel of God, the day of the Lord and the resurrection of the dead--he compares and contrasts Jesus and Paul. The result is an important contribution to our understanding of New Testament eschatology.
306 pages, paper, apppendix, bibliography, index

---
TOP | HOME
Copyright 1998-2016 by Cliffside Publishing House