Home
About Us
FAQ
Privacy Policy
Contact Us
Books
DVDs
VHS
Charts
Audio Books
General Information
Secure Order Form
Mail & Fax Orders
Shipping Rates

Mastercard
Visa, Discover
* * *
Phone Toll Free:
1-877-577-8743
within U.S.A.
* * *
International
1-336-246-2663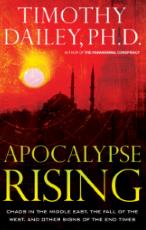 APOCALYPSE RISING
Chaos in the Middle East, the Fall of the West, and Other Signs of the End Times

Timothy Dailey, Ph.D., 2016


$13.95
Ships within
24 hours!


After decades of researching biblical prophecy, bestselling author Timothy Dailey warns that end-time events are closer than we realize. Connecting the dots between history, archeological findings, first-hand accounts, and Scripture, Dr. Dailey shows that malevolent forces are converging to trigger the end of human history. He reveals:
the hidden activity of Gog and Magog over the millennia
worldly portals opening for the Antichrist
counterfeit signs and wonders
and much more
Yet under the shadow of the apocalypse, the world is witnessing an unprecedented spiritual revival and outpouring of the miraculous. It's time for us to read the signs and take a stand, knowing that Jesus has promised to be with us to the end of the age.

---
TABLE OF CONTENTS
Introduction: The End of the World as We Know It
Part 1: Kingdoms of Gog and Magog
Out of the Far North
Invasion from the East
The Gates of Alexander
Battle of the Blood Drinkers

Part 2: The Middle East Aflame

The Muslim Savior
Holy War for the Promised Land
Camp of the Saints
Have You Come to Take Great Plunder?

Part 3: Twilight of the West

Beyond the Pillars of Hercules
The One-Second War
The Criminalization of Christianity
Darkest Before the Dawn
The Name That Overcomes
Afterword: The Atomization of Biblical Prophecy
Notes
Index

---
AUTHOR PROFILE
Dr. Timothy Dailey is a Christian scholar and bestselling author whose books have sold more than 300,000 copies. He holds an M.A. from Wheaton College and a Ph.D. from Marquette University. Dr. Dailey has senior-level research and writing experience with major Christian ministries. He has taught on the college level both at home and abroad, including teaching the historical, archaeological and geographical background of the Bible on-site while living in Israel.

---
BOOK SPECIFICATIONS
215 pages, paperback, index.
ISBN: 9780800797980